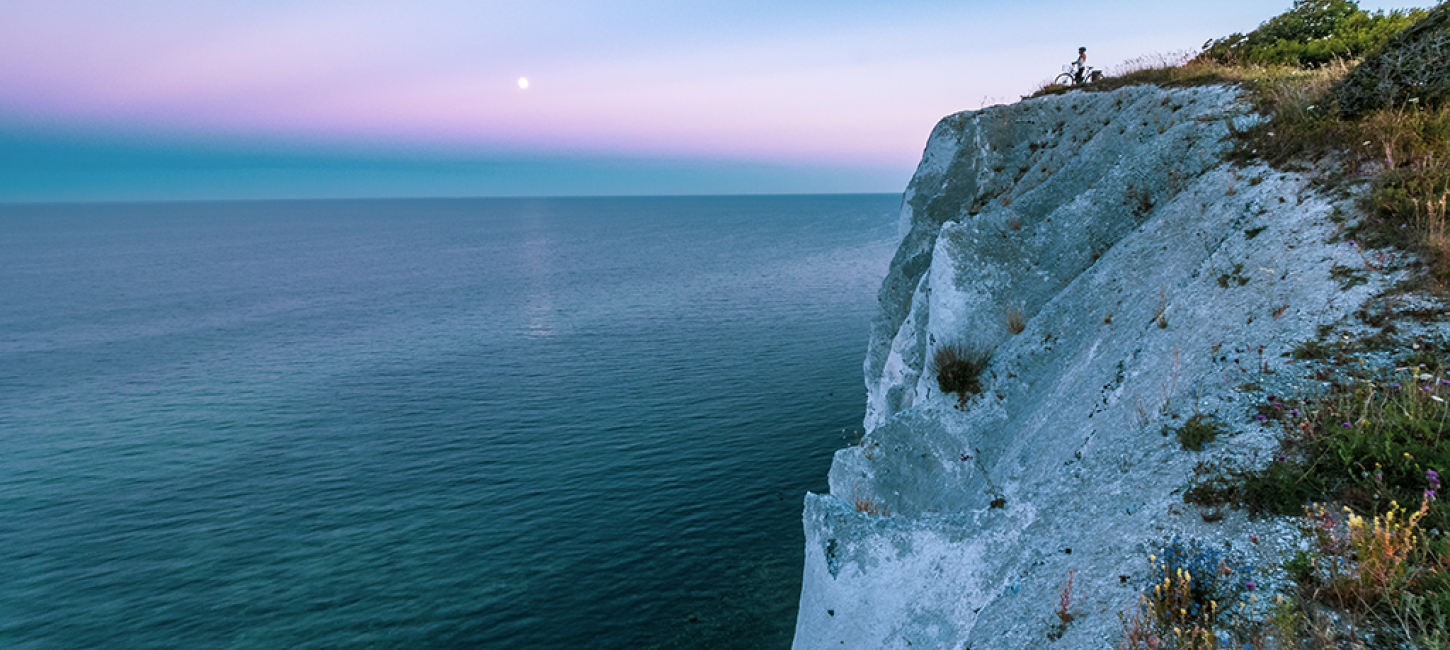 The Cliff-to-Cliff Route
230 km, 6 stages. The route follows these signposted trails: National route 8, Regional route 58, National route 9 and Panoramic route 425
The Cliff-to-Cliff Route
230 km divided into seven stages equals a perfect cycling holiday for families with children on South Zealand & Møn. Experience the historic cliffs where you can go fossil hunting, the Forest Tower, which offers a unique view of Zealand, and much more!
The route connects Møns Klint and the UNESCO World Heritage site Stevns Klint with plenty of experiences for children. Stop to find fossils in Faxe Limestone Quarry, solve puzzles in Kalvehave Maze Park and explore the past in GeoCenter Møns Klint. The tour is 230 km long, a distance suitable for approximately a week-long cycling holiday for the entire family.
Start the trip in Vordingborg, where you can park the car or take your bikes on the train directly from Copenhagen or Rødby. The route ends in Køge, where you can continue by train or return to your car in Vordingborg.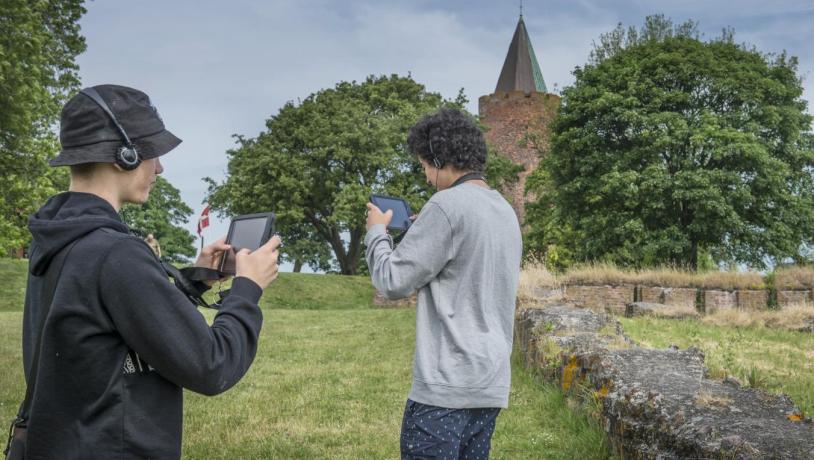 Photo:Danmarks Borgcenter
Stage 1 Vordingborg to Hårbølle, 45 km.  
The stage, which is 45 km long, takes the Baltic Sea Route/National Route 8 towards Kalvehave and across Queen Alexandrine Bridge to Møn and continues further on Route 58 to the beautiful nature of West Møn. In Vordingborg, you can visit the Danish Castle Centre and learn about Denmark's castles and the power of kings through the ages, or try your hand at the interactive Ghost Hunt on the castle grounds. Make a stop at Kalvehave Labyrinth Park, where the whole family can have a brain workout and test their wayfinding skills.
Stage 2 Hårbølle to Møns Klint, 42 km
This stage starts in the charming harbour village of Hårbølle and follows the National Route 8 to the east and Møns Klint. Along the route on Møn, you can experience the charming communities that Møn is known for, the burial mounds of Grønsalen and Målerhøjen and the idyllic Fanefjord Forest. You can also enjoy a walk past the many local galleries, farm shops or local food producers. The children in particular will think it's a good idea to stop for a well-deserved break and ice cream at Møn Is. National Route 8 takes you all the way to one of Denmark's most beautiful natural phenomena, Møns Klint, which came into being more than 70 million years ago.
Stage 3 Møns Klint to Stege, 21 km
You'll want to set aside a day to experience Møns Klint and the 128-metre-high cliffs. Hop off your bike and take the 497 steps from the top of the cliff down to the beach, where you can go fossil hunting and find 70 million-year-old fossils, belemnites and amber. GeoCenter Møns Klint offers experiences for all ages, and you can learn all about how the cliff came to be. From Møns Klint, follow the Baltic Sea Route/N8 to Stege, one of Denmark's oldest market towns, which abounds in activities and experiences for the whole family throughout the summer. You can also explore "the old days" at Thorsvang Collector's Museum.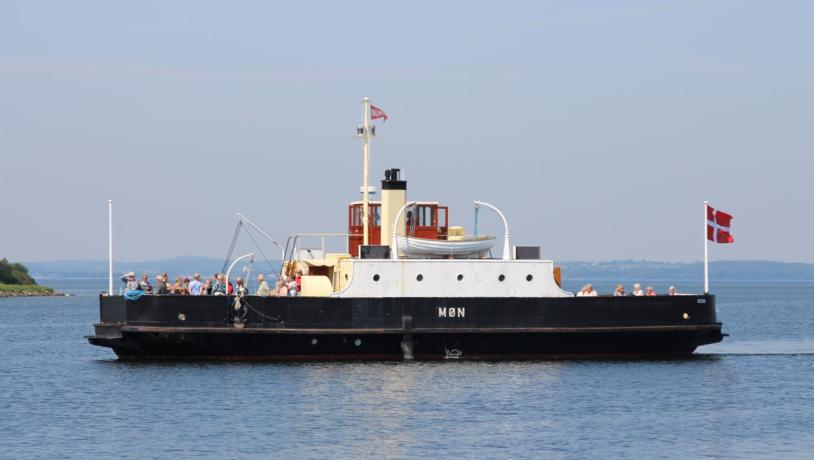 Photo:Færgen Møn
Stage 4 Stege to Feddet, 36 km
Start the stage with a picturesque sail across Stege Bay on the sailing cycle path with Færgen Møn, which takes you from Stege to Kalvehave. The ferry runs every weekend during the school summer holidays from week 26 to 32 and saves you 11 km. From Kalvehave, follow Route 9 north. Try your hand at puzzles and labyrinths in Kalvehave Labyrinth Park and continue towards the idyllic market town of Præstø. Præstø invites you to shop in its charming cobblestone streets, enjoy local food or an ice cream at Præstø Harbour, or take a dip on the child-friendly beach at Præstø Fjord. If you're here during the summer holidays, you won't want to miss a visit to H.C. Andersen World, Denmark's only theatre park.
Stage 5 Feddet to Rødvig, 35 km
From Feddet, follow National Route 9 north along the coast to the charming harbour town of Rødvig. The route takes a detour from National Route 9 on Panorama Route 425 to Faxe Limestone Quarry and Geomuseum Faxe, where you can rent a hammer and chisel and explore the limestone quarry in search of fossilised sea urchins, corals or other fossils. On the way, you'll pass Faxe Ladeplads, which offers a beautiful beach, Strandskoven Siberia and Vemmetofte Klosterpark, all ideal for a stop and a well-deserved break.
Stage 6 Rødvig to Køge, 40 km
The last stage takes you along Stevns Klint UNESCO World Heritage site, which offers an array of scenic experiences in addition to the impressive view of the Baltic Sea from the top of the cliff. Enjoy a dip on the beach in the harbour town of Rødvig, and make a stop at Boesdal Limestone Quarry or at the Stevnsfort Cold War Museum, which is home to Denmark's biggest war secret. An ideal place for your lunch break can be found at Højerup Old Church, which is located on top of the 30-metre-high cliff, or at Stevns Fyr, from where you can enjoy the view over the Baltic Sea and all the way to Møns Klint, where you cycled just a few days ago.
Additional stage 
If your legs are still feeling fresh, it is of course possible to cycle further towards Copenhagen (50 km), where there are train connections back to Vordingborg or to the rest of Denmark.
There is also the option of taking a detour from the signposted routes and cycling to Gisselfeld Abbey and the Forest Tower at Camp Adventure (36 km) to end in Haslev or Næstved, where it is also possible to take the bikes home by train or to the car in Vordingborg.
Stay overnight and find great experiences and assistance
Options for accommodation, wonderful experiences and knowledgeable tourist information centres are located along the entire route. In the boxes below, we've compiled the most accessible places that follow the route so that you can find the best places for your cycling holiday.