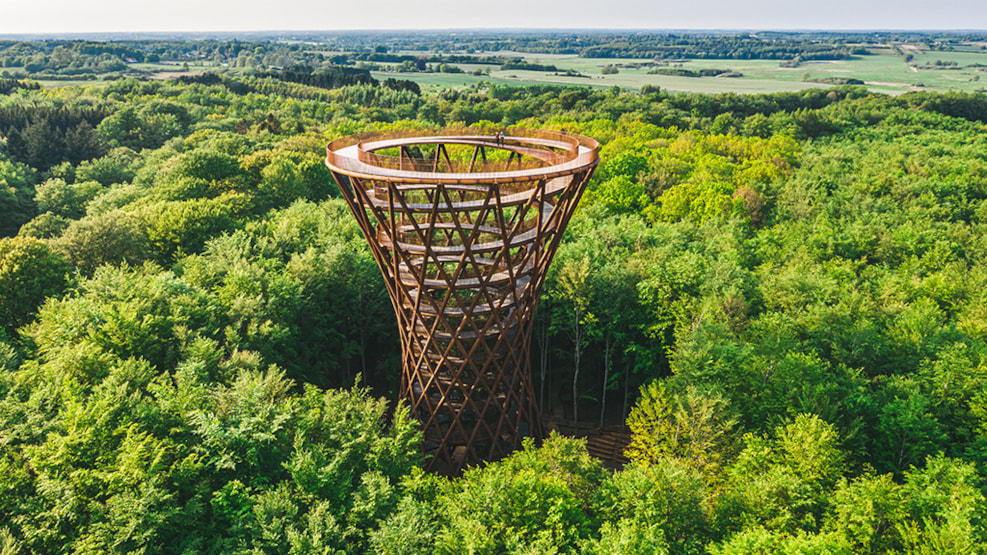 The Forest Tower - Camp Adventure
Zealand's new landmark
The Forest Tower at Camp Adventure – an outstanding experience with a very special and majestic view across South Zealand. The tower is 45 metres tall, and the platform at the top is situated 135 metres above sea level. This makes it the highest accessible point in all of Zealand. When you stand on the platform at the top, you can see 25 km across the South Zealand landscape, and looking to the north on a clear day, you can actually see all the way to the Øresund Bridge, the Turning Torso in Malmö, and parts of the Copenhagen skyline.
The trip up the tower itself creates a unique sensation, allowing you to see nature from a completely new perspective. When you follow the tower's spiral ramp you will see the trees very close up, and you will finish off your experience with the treetops  at eye level and the stunning view across Zealand.
The walk out to the tower itself is via a 900-metre-long boardwalk in the forest, where you can experience Camp Adventure's climbing park, the forest and the beautiful scenery in which the tower is situated. Along the way, there are several lookout pointswhere you can take the opportunity to rest and enjoy nature.
The tower is a unique attraction in itself and a must-see for architecture buffs. Designed by Effekt Architects, the tower garnered several international awards before it was even opened. The main structure is made of maintenance-free Corten steel and local South Zealand oak from the estate Bregentved Gods and the abbeyGisselfeld Kloster.