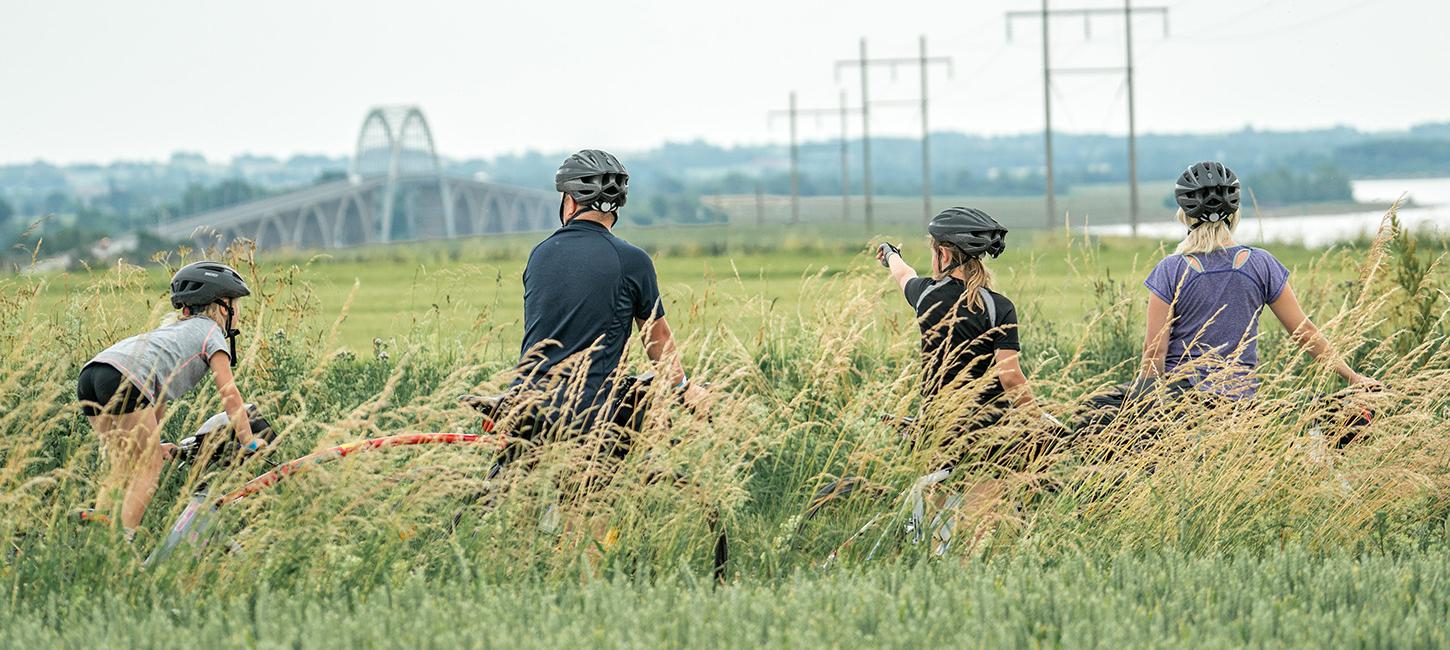 7 things that make South Zealand & Møn an incredible cycling destination
Flat terrain, scenic panoramic routes and loads of amazing experiences, all within easy reach. Here are 7 good reasons to hop in the saddle and steer your way to South Zealand & Møn.
#1 Beginner-friendly terrain
With fields and coastline as far as the eye can see, South Zealand is dominated by a relatively flat landscape. The long straight stretches make the area ideal for beginners, families with children and others who dream of enjoying a cycling holiday without aches and pains. Only on Møn can you find the truly hilly terrain that can pose a challenge.
#2 Cycling routes with an X factor
No fewer than three national cycling routes meander through South Zealand & Møn: N7, N8 and N9. These routes can easily be combined to provide the ideal conditions for both long-distance cyclists and those just cycling for a single day. South Zealand & Møn boasts more than 550 kilometres of coastline, so there are plenty of panoramic routes to explore.
#3 Great nature experiences
What the cycling routes in South Zealand & Møn have in common is that they are located in some of the country's most magnificent nature. Here, you will find amazing beaches, vertical cliff faces, Ice Age landscapes and charming harbour towns. Some of the destination's biggest draws include the spectacular cliff face at Møns Klint and Stevns Klint, which is one of only seven Danish UNESCO attractions.
#4 Experiences galore
Amazing experiences sit like pearls on a string in South Zealand & Møn. In fact, rarely is there more than 20 kilometres between attractions. Legs tired from cycling? There are countless possibilities to stop, rest, and enjoy a incredible experience. For example, you can ascend the Forest Tower, an award-winning, spiral-shaped masterpiece that offers a 360-degree view over Gisselfeld's large beech crowns from the top platform. You can explore Gavnø Castle's vibrantly colourful castle park, look at glass art at Holmegaard Glassworks or take a guided tour of the underground passages of Stevnsfort Cold War Museum.
#5 Good infrastructure
The large railway stations and bus terminals in Køge, Næstved and Vordingborg make it easy and convenient to get to South Zealand & Møn. On many of the major roads, there are excellent marked cycle paths and signs directing bicycle tourists to everything from farm shops to unique nature. There are also many small, quieter roads where heavy traffic is a rare occurrence.
#6 Sleep like royalty
As one of the areas in Denmark with the most small accommodations, there is plenty of opportunity to find shelter for the night on South Zealand & Møn. Small, cosy bed & breakfasts are sprinkled generously throughout the destination, as are campsites. Feddet Strand Resort, for example, has special tents geared towards bicycle tourists. The tents are set up upon arrival, raised above the ground and furnished with a comfortable foam mattress, which works wonders for sore cycling bodies.
#7 A helping hand
Tour de France cyclists have escort cars. Here, we have Bike Friends. South Zealand & Møn's nearly 60 tourist information centres are equipped with both bicycle pumps and puncture repair kits in case of any problems. So you can safely steer south! Find a Bike Friend here