6 places to stay for a magical couple's weekend
The couple Line and Thomas from Nørrebro have tested a luxurious holiday on South Zealand & Møn. Here, the couple share a few of the places they stayed that guarantee a good night's sleep.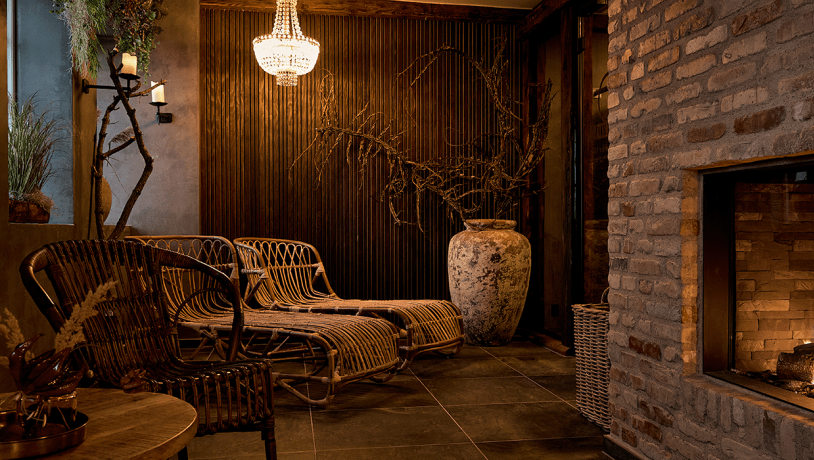 Photo:Hotel Kirstine
The plan is total relaxation at the 4-star city hotel Hotel Kirstine in Næstved. The hotel is built in the classic half-timbered style and features a pretty wellness area with a therapy pool, sauna, steam bath and pool.
"You feel like you're stepping into a fine English salon at Hotel Kirstine," Thomas says about the couple's stay.
"It was great to have some uninterrupted couple time. We had the spa all to ourselves, with woven baskets of bath salts, fruit and tea set out for us. On a rainy day, it's great to treat yourself to a dip in the hot pools," says Line.
Camp Adventure takes glamping to new heights. Spend the night in a yurt with a view of a lake, a herd of mighty red deer and thousands of pine trees. To top it off, overnight guests have access to the award-winning Forest Tower at both sunrise and sunset. The luxurious tents are heated, have their own wooden terrace, fire pit, sauna and a hot tub to sink into with a big glass of wine or a good book.
"I remember my reaction being 'Wow, wow, wow, wow! Is this where we're going to stay?'" Stepping into the glamping tent was aesthetic pleasure for me. In the evening we opened a bottle of bubbles, lit some candles and relaxed in the bath," says Line.
Rødvig Kro & Badehotel has been voted Denmark's best seaside hotel, twice. Last time in 2022. The charming seaside hotel is located in the harbour town of Rødvig and offers a comfortable bed and a good meal. In the restaurant you can enjoy beer from the local brewery and a menu focused on Stevnian produce.
"At Rødvig Kro & Badehotel, we jumped straight into our bathrobes and made our way down to the lovely bathing jetty for a dip in the sea. On our return, coffee and homemade cake were served in the courtyard, and in the evening we enjoyed a delicious three-course meal in the restaurant. The next morning we woke up to a sumptuous breakfast buffet with little plated portions," says Line.
Surrounded by fields and hollyhocks is Jungshoved Præstegaard, near Præstø. Inside, behind the red-and-white painted half-timbered facades, you'll find a number of stately rooms, and in the furthest corner of the garden, a small, well-hidden forest cabin with a view of Bøgestrømmen.
"Jungshoved Præstegård is like something out of a Morten Korch film," Thomas says of the experience.
"The garden is full of fruit trees and berry bushes, and there's a lovely jetty for paddle boarding or kayaking. The rooms are furnished with old four-poster beds and decorated with floral wallpaper and lots of gold on everything from mirrors to wardrobes. For breakfast we had vegetables from the vicarage's own garden, and in general there is an incredibly homely and cosy atmosphere," says Line.
Jungshoved Præstegaard is run by Filip and Anette, a married couple known for their attentive hospitality. There's always time for a cosy chat and plenty of room in the heart.
Villa Huno is a boutique hotel with a fantastic location in the centre of the Nordic region's first Dark Sky Park on Møn. Here the night sky is a special sight, far from city lights. Millions of stars make twinkle in the darkness, and on clear days you might be lucky enough to catch a glimpse of the Milky Way.
"From the rooms you can look out over the beautiful Hunosø, and at the water's edge there's a nice plateau where you can hang out," says Line.
The romantic half-timbered house, Gavnø 4, has Gavnø Castle as its closest neighbour. The villa has exposed beams and exudes a sense of a bygone era with country-style furnishings. The first floor overlooks the castle park, known for its many beds of tulips, lilies and roses. Every year the castle gardeners plant half a million bulbs, which create a unique play of colour in the spring months. But whatever the season, the impressive park is worth a visit.
"Arriving at Gavnø was very special," says Thomas.
To get to the island with the yellow fairytale castle, you have to cross a lush cherry tree avenue and a little stone bridge.