Fishing by Præstø Fjord
Photo:
VisitSydsjælland-Møn
Præstø Fjord is, like the rest of the Baltic Sea, a brackish water area. This makes the fjord the perfect fishing spot with prime fishing in many different forms. Get tips and tricks for your fishing trip here.  
What fish can you catch in Præstø Fjord?
Præstø Fjord is a brackish water area, which is a cross between salt and fresh water. The fjord is therefore home to fish species that are usually found exclusively in freshwater, such as the common roach, bream, ide, perch and pike. In addition, the fjord also hosts common saltwater species such as sea trout, flounder, herring and cod, as well as garfish and mackerel in season. 
The fjord is an excellent fishing ground for sea trout, where there can be really good fishing throughout the spring, and where every autumn large fish are caught during their migration to the streams. There are plenty of places around the fjord where you can pull on a pair of waders or go sailing to land some fish.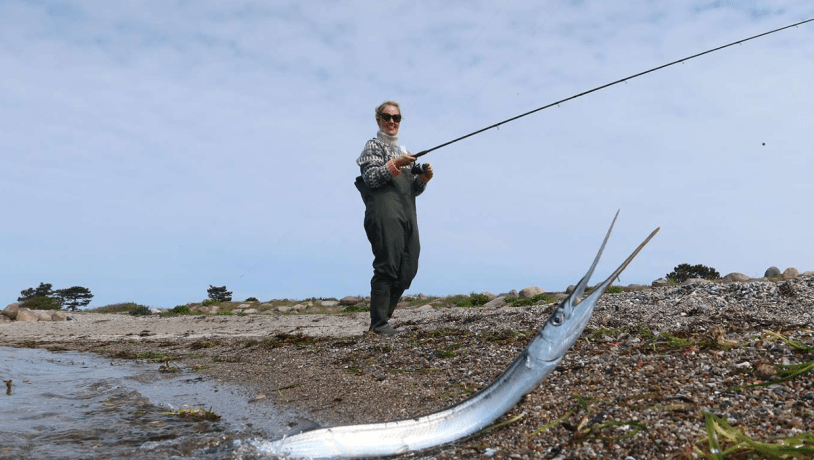 Photo:Fishing Zealand
Fishing grounds and fishing spots
There are excellent fishing opportunities everywhere in Præstø Fjord. Read more here and click on the map to see fishing spots, protection belts and the nearest car park. 
REMEMBER YOUR FISHING LICENCE
If you are between 18-65 years old, you MUST buy a valid fishing licence when fishing in Denmark. 
Fishing guide
When is the best time to fish for sea trout? Which gear is the best? And what is the best fishing weather? FishinginDenmark has the answers to everything you need to know about the exact fish you want to catch.