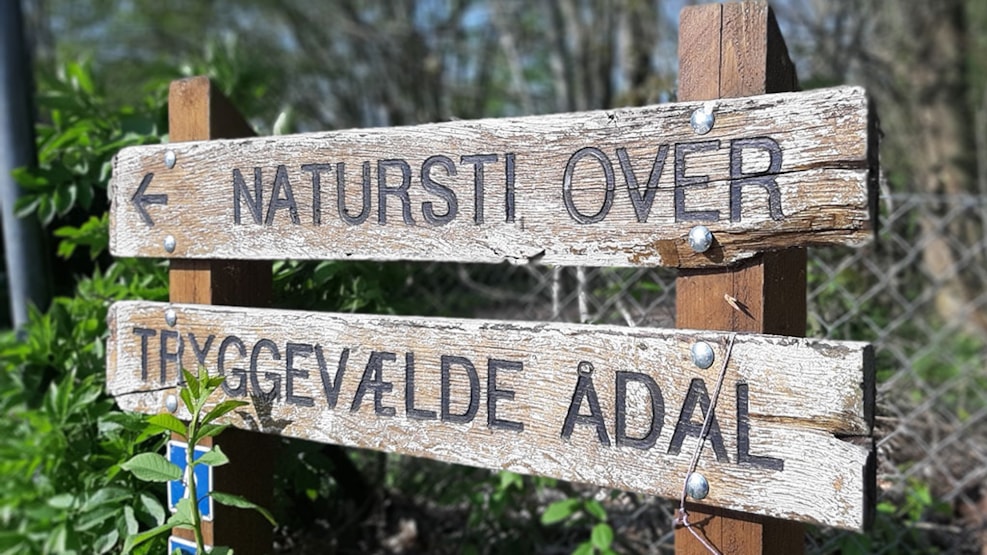 Walk along Tryggevælde Ådal
Tryggevaelde Creek - Stroll along the old church path.

The hike is about. 2 km. long. The tour starts from the parking area at Strøby Church.
Then walk west down the creek. The first part of the path is the village's old common road, called " faegangen ", which was used by all to drive cattle down for irrigation by the river. Along the path to the first part down to the stream seen in high summer a beautiful bloom of wild chervil.
On the south side against priest meadow bounded path of an old dyke. Closest to the river are some of the old trees still preserved.
School meadow just below the sports field are characteristic of the meadows in the valley at its upper dry and moist lower part with many interesting and rare plants.
At the top of the meadow down a shelter, benches and tables and an information board with some of the plants and birds that can be seen in the river valley.
Spangen is one of the few contemporary crossings over the river. It was built in the late - 1800s . From the bridge you can with a little luck see marsh harrier sail across the tube stand in search of food .
The meadows at St. Tarnby ago is one of the nicest parties across the river valley. It is on these big meadows, wading birds in the river valley have their main territories and breeding areas .
They have regained the typical flowery hillocks and several rare plants have germinated again . A part of the plants can be seen from the path. This applies to water mint, water - class display , yellow lesser meadow-rue , erect cress, unravel crown and begging buttercups .

The meadows closing of old hedgerows with poplars , willow , elder , hawthorn and blackthorn.Turen can be extended by turning left onto the gravel road ( Engvej ) and follow the " trail in the countryside" . You walk along the fence and fields to a field choked with willow.
From the bird tower is a nice view of the river valley and it is a great place to listen to the nightingale and get a glimpse of the marsh harrier . Kirkestien follow the gravel road to the right and continue along the old medieval dike to St. Tårnby. The dike grows old pollarded poplars , elder and apple trees. Here 's spring and summer in ample opportunity to hear the lark's song. You can also take a walk at the picnic area in Stolpe houses where there are picnic tables and information boards . Here followed Trails in landscape on the first paragraph .