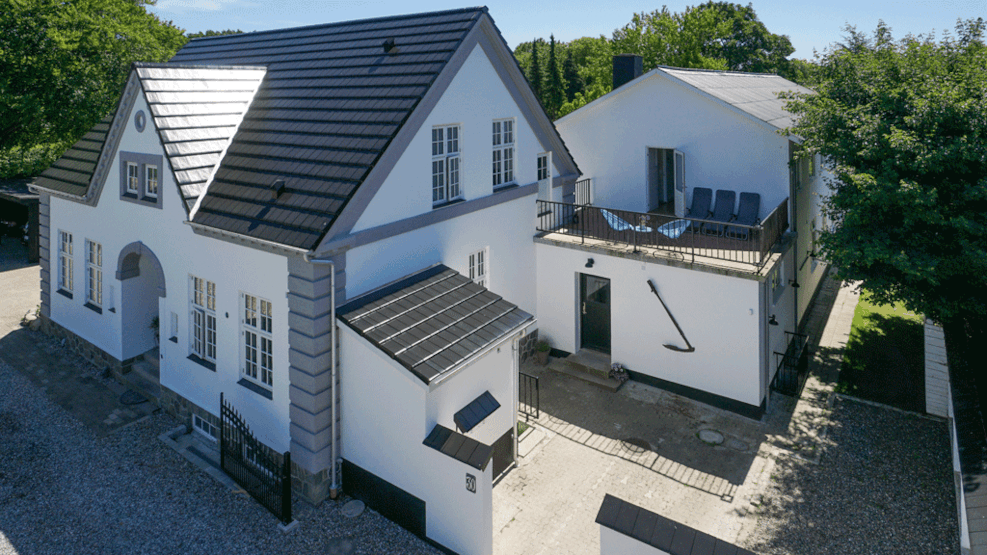 Green Experience
Villa Sofie B&B
Stay at Villa Sofie Bed & Breakfast in the city but still close to some of Zealand's most beautiful nature and several major attractions. Villa Sofie Bed & Breakfast is located on a peaceful residential street in Haslev within a short walking distance to both restaurants, shopping, cinema, train and bus station. A few kilometers outside the city you can enjoy the beautifully hilly landscape with vast arable land, large lush forests and small, peaceful forest lakes. Here you can experience the idyllic restaurant Villa Gallina, Gisselfeld monastery, Bregentved Estate and Denmark's largest climbing park - Camp Adventure as well as the internationally known Skovtårn (Forest Tower).
Villa Sofie is housed in Haslev's first needlework-school, which was later converted into a leisure center. When you go up the stairs to the first floor which is characterized by lively traffic, you have no doubt that it has been a house full of life. The house is arranged so that everything looks delicious and very inviting. Rooms are bright and simply furnished - each with its own TV and free Wi-Fi. There are shared toilets / bathrooms and two large common living rooms, where you can always make yourself a cup of delicious coffee or tea. Furthermore, there is a large and sunny west-facing terrace with sun loungers, as well as a smaller living room with various board games for free use.
At Villa Sofie, breakfast is always included in the price, and you can look forward to a very special experience. Not just because of the good coffee and breakfast based on good, as far as possible, organic ingredients. Villa Sofie is a social economic enterprise where young people with special learning abilities are educated and employed.