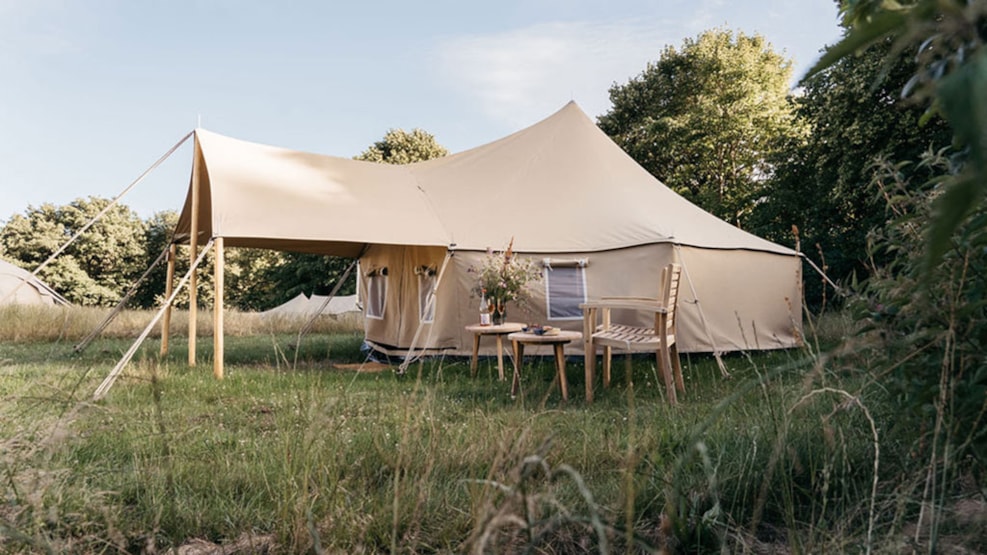 Villa Huno Glamping
Villa Huno Glamping and Lakeside bath where comfort and luxury meet nature and idyll.
Experience the authentic nature from a glamping tent. Villa Huno glamping takes the guests into the nature and brings the nature inside. With Villa Huno glamping, our guests and visitors can get really close to the nature of east Møn by directly stepping outside onto the soft soil and the long grass.
Villa Huno Glamping is located with a view and direct access to Jydelejet, the lakes of Huno and Aborre, and in walking distance to Møns Klint. Here, visitors can immerse themselves in the broad beech wood, the high hills, and the deep lakes within the wild and wonderful nature of east Møn.
Our glamping camp consists of eleven spacious tents decorated with double beds and cosy lounge furniture. Some tents can be used for extra beds and are equipped with a wood stove for chillier summer nights. Fall asleep under the night sky of Møn and in the magical dark scenery where millions of sparkling stars unfolds on the spectacular heaven. The summer nights offer the memorable sight of the bright Milky Way. Scandinavia's first Dark Sky Park is located on Møn and Nyord, you see. Villa Huno glamping is located in the middle of some of the most fascinating Dark Spots on Møn. Here, the star filled heaven can be experienced from Aborrebjerget, Jydelejet, the lake of Huno, and Kongsbjerg.
In addition, guests of Villa Huno Glamping have access to luxurious toilet and bath facilities in the lakeside bath at Aborre and a lounging area with a panoramic view of the lake.