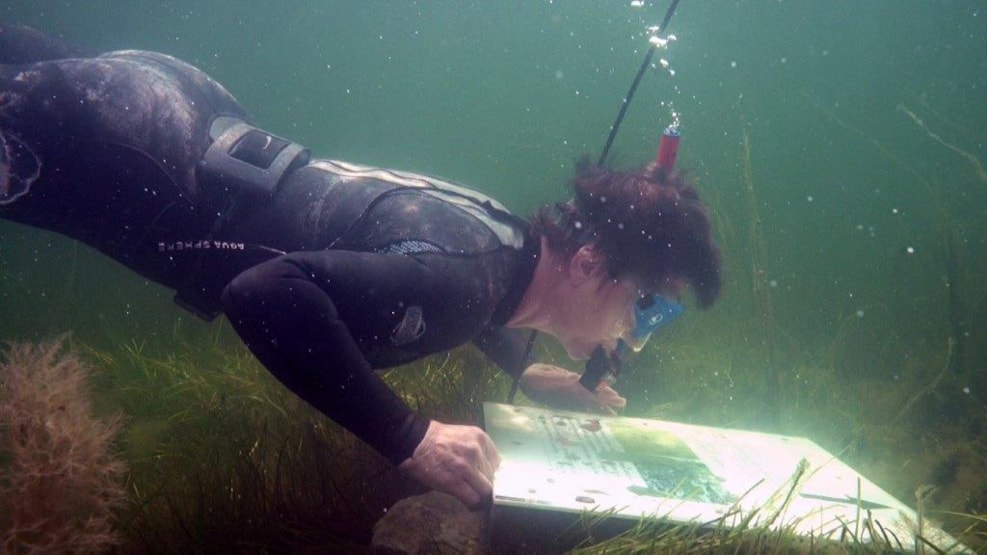 The underwater path near Kalvehave Harbour
Most nature trails are in our forests. This is where we wander around and follow red or yellow spots on signs or trees to learn more about nature out there. But why not walk a walk along a nature trail under the sea surface?
The underwater path helps to spot fish and animal species. It is an ideal place for beginners and for children as it is protected in terms of electricity, weather and wind. Furthermore, there is a nature station and an information board right next to the bridge.
On land, the path marked with an information board and underwater helps to open a whole new world. The underwater path lies east of the harbor and north of the building "Den gule stald"
What you can experience:
It is here that you can have fun and educational experiences under the water. The path leads you over the sandy bottom, stone reef, eelgrass and through seaweed forest. Suddenly you meet a seal or a wreck that you can swim around. Examine if there are fish at the hiding places and hatches that we have laid out along the path. Underwater signs encourage you to look for details. Here you get small tips to spot a flatfish that hides under the sand or a seaweed needle that stands vertically up in the water and resembles a piece of eelgrass. The clutch looks like a stone - with the underwater signs you get a better eye on the animals and a new world is coming up for you.
Here's how you do it:
Walk in the water at the end of the jetty or from the shore and follow the red buoys - each of which marks an underwater entry. Arrows on signs on the seabed show you the way to the next post. You meet a seal, a wreck and also nest boxes / fishing shed on your walk around the path. You meet information signs that tell you about the life you can experience under the surface right here. You will learn to train your eyes on exploring under the surface locally. The signs tell you what to look for in order to spot among other things the clutch, the seaweed needle and the flatfish. Also learn about the fish seaweed prey that has antifreeze proteins in the blood. And who imagines that the eel crab feeds up to 300 living cubs? Learn about the fish perch and pike living here in the area, as the water is quite fresh