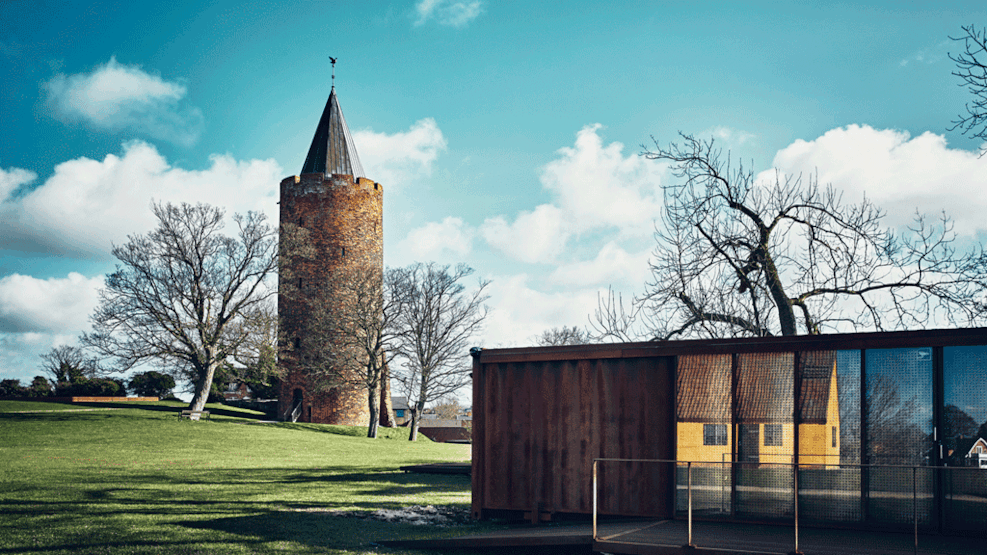 Tourist Information The Danish Castle Centre
Vordingborg Touristinformation is ready to help you on your journey in SydkystDanmark
The Goose Tower lies in Vordingborg. It is Denmark's best preserved castle tower, and represents one of Vordingborg's main landmarks. Once, Vordingborg was a political and military centre of power and legendary kings. Valdemar I (i.e. Valdemar the Great), Valdemar II and Valdemar IV all reigned in the castle. The first castle was built in the 1160's. In 1241, the so-called Codex Holmiensis, i.e. the Danish Code of Jutland, was signed in Vordingborg. In the 1360's, Valdemar IV built the famous Goose Tower which still stands to this very day as part of Vordingborg Castle. The castle was the country's largest royal castle and the Goose Tower remains as just one of the castle's nine towers.
The golden goose on top of the tower was put there to make fun of the German Hanseatic League. Back then, the Hanseatic League was at war with King Valdemar IV. He teased them by claiming that he was more afraid of a bunch of cackling geese than of the entire German League.
High tech experiences at the Danish Castle Centre. 

With the opening of the Danish Castle Centre, the Goose Tower and Vordingborg Castle will be given a whole new life.  It is a modern experience centre  that tells the story of castles, kings and power in the medieval times. 

There will be daily tours of the castle ruins and lots of activities for children and the young at heart.  
Visitors at the castle centre will be supplied with an iPad Guide and can then go exploring around the ancient ruins and in the newly built exhibition space. For example, you can use the iPad to see what the castle looked like in the 1300s while standing in the middle of the ruins. The iPad is the key to knowledge, games and experiences. If you like action, then try the game Ghost Hunt: run around the castle ruins and chase the monsters and ghosts that people feared in the Middle Ages.
The Children's Castle Centre 
The Danish Castle Centre is an experience for adults as well as children, offering various activities, guided tours and lectures. And, if you have a dream of becoming a knight or princess, then you can have it fulfilled in the Children's Castle Centre, even as a grown up!
Under the ground 
Also visit the brand new underground exhibition space where intriguing projections, street art and authentic artifacts from the Middle Ages provide a magical experience. The Danish Castle Centre also has its own soundtrack, accompanying you and changing wherever you move around in the exhibition. 

Remember to bring your ID with picture in order to use an iPad guide.