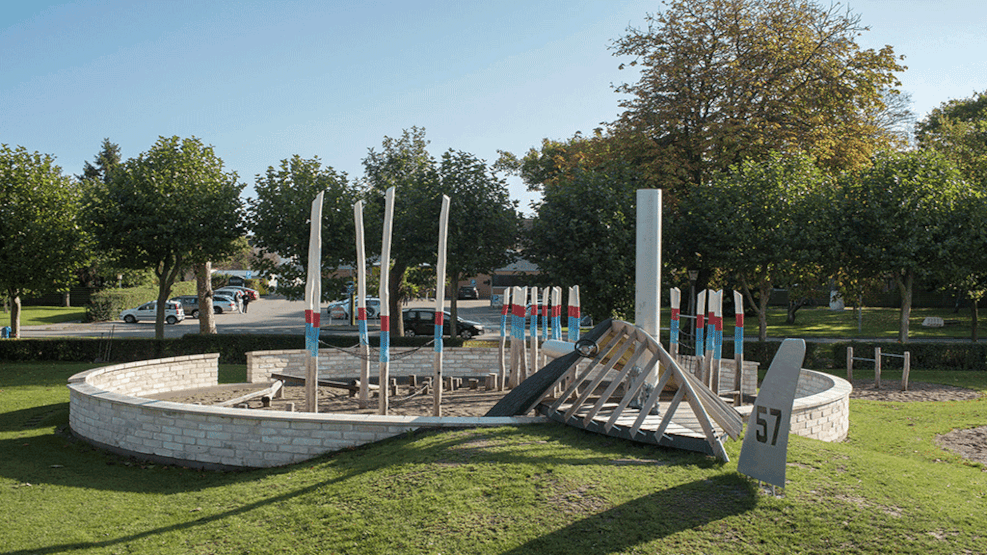 Stevntilus and Chalk Playground
An adventurous playground in Store Heddinge
The playground, which is located between Kronhøjvej and Jernbanegade in Store Heddinge, provides space for both play and imagination. The playground contains a small forest of high poles for the children to climb. Are they bottom net piles in the sea, where the fishing nets are stretched out in between? Can you "fall into the water" or is the soil "toxic"? Here the imagination can just run free.
Through the wall and in between the poles, the adventurous vessel creature - Stevntilus "sails". Stevntilus is a real fishing seaplane with an open mouth and a turquoise-colored tongue, which the children can climb up on - if they dare to be "eaten"!
The playground is surrounded by a wall of old chalk building blocks, which were once carved out of Stevns Klint. It is the same kind of stone that many of Store Heddinge's old houses are built of. Thus, the playground Stevns Klint, the sea and the city connects.
Background
The playground was created as part of a project initiated by Store Heddinge Borger- og Handelsstadsforening and is financially supported by Stevns Municipality, Development Stevns (LAG funds), Stevns companies and private citizens. These funds as well as a lot of volunteer work have made the project possible. The playground is primarily built by Stevns companies and large parts of it are designed by the local design studio Tingtegneriet.