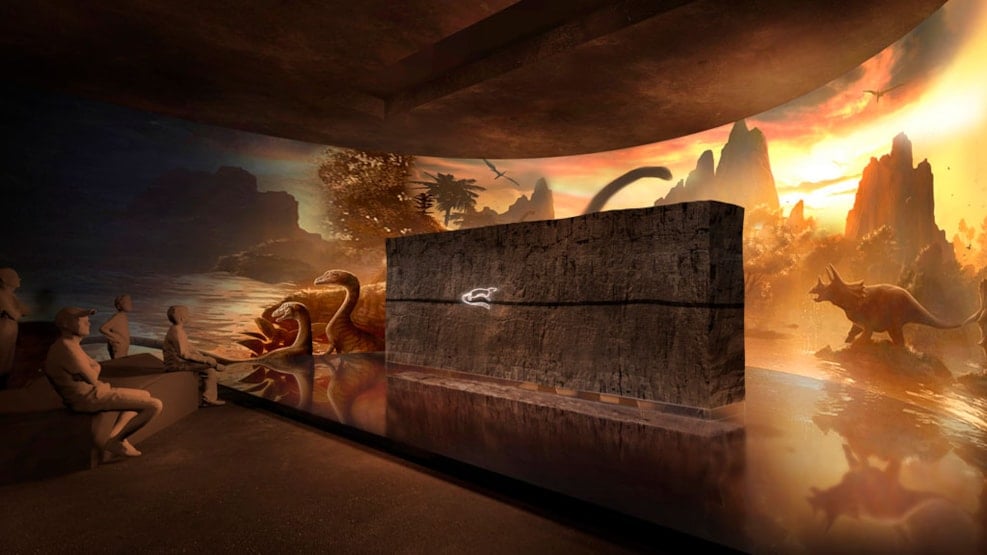 Stevns Klint Experience
At Stevns Klint Experience, experience the story of how an asteroid impact 66 million years ago wiped out half of life on Earth. But the experience centre also tells the story of how life went on, flourished and evolved into the life we know today.
Stevns Klint Experience is located on a hilltop in Boesdal Limestone Quarry, overlooking the quarry and the Baltic Sea. The experience centre is built into the cliff itself, and this location provides natural access to the sea and the landscape.
Stevns Klint is a UNESCO World Heritage Site because between the cliff's thick layers of chalk and limestone is a very thin layer of fish clay that tells the story of how Earth's ecosystems came under pressure and how the impact put the final nail in the dinosaurs' story.
At the centre, children and adults will discover an entertaining and interactive exhibition about what the world looked like before, during and after the impact. Here you can get up close and personal with fish clay, as a 37.5-tonne piece of rock has been placed in the Klintesalen, so you can see for yourself what makes Stevns Klint unique. 
Stevns Klint Experience's dining room serves delicious meals based around tasty ingredients from Stevns. You can also pick up a souvenir to take home from the centre's shop, which offers a great selection of local crafts.
Stevns Klint Experience is also the setting for a wide range of cultural, sport and adventure events, and the also attracts topical conferences and seminars.