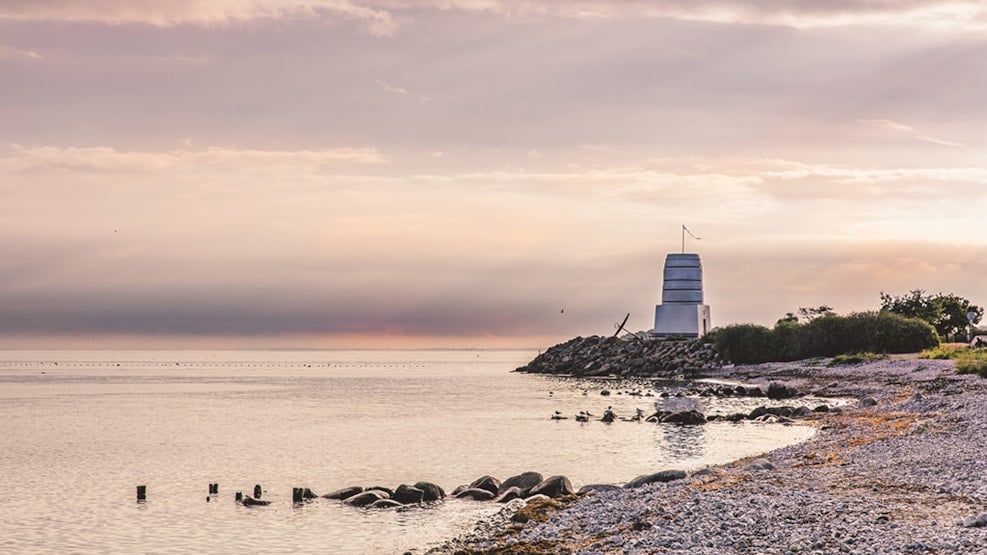 Roedvig Flint oven
Rødvig Flint Oven is a 3.5 m high square building with a 5 m high chimney walled on top. It is furnished with 3 rooms above each other for the local museum or similar. as well as a viewing platform.
In 1870, an enterprising skipper, Rasmus Larsen, got the idea to erect a flint furnace in the port of Rødvig.
He had seen how to import flint flour from France, and he believed that what could be made of the stiff flint from the cliff had to be as good for the purpose as it was to be used for glazing on the beautiful faience products of the Aluminia factory at Christianshavn in Copenhagen.
The plan succeeded, and flint flour was produced by both Rasmus Larsen and his son, Lars Peter Larsen, until 1910, ie for 40 years. While the flint stove worked, it employed between 15 - 20 men on picking up the flint, fit the stove and transport the flint to Copenhagen.
The original flint furnace was built in 1870 by limestone from Højerup. And it was placed on the harbor so the fishermen could unload the flint nearby while shipping the finished product.
The Flint furnace was demolished after the business closed, however, it has since been rebuilt and in 1987 it was erected for the third time. The third oven was built with limestone from demolished houses and today stands as a landmark for Rødvig.