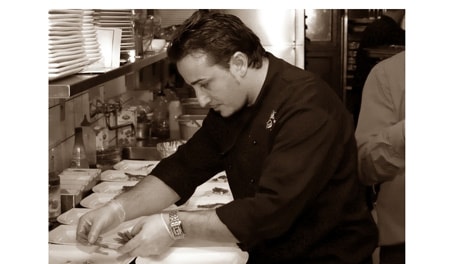 Restaurant Peperoncino Siciliano Det Røde Pakhus
The Italian restaurant Peperoncino Det Røde Pakhus (The Red Warehouse) is on Riddergade in Næstved, and is operated by Peppe, who has a great deal of experience in the restaurant business. The restaurant opened in May 2007.
Peppe only uses fresh ingredients for all of his dishes, which means that when you order a sauce with your meal, you get a fresh sauce made from scratch with no heated pre-cooked elements.
The restaurant offers exquisite dishes which have been specially selected to make the dining experience complete, as the food is carefully prepared by experienced Italian chefs. We also offer popular Italian wines along with the slightly more exclusive choices. You can also choose from a selection of Italian and Danish beers, water and other beverages.
In the cosy rooms with exposed beams, guests can choose Italian dishes from the large à la carte menu featuring antipasti, pasta, risotto, meat, fish and pizza. The menu of the day is a bargain, consisting of dishes made of the best produce available that day.
The atmosphere is cosy and relaxed, and Peppe regularly organises special events such as wine tastings, live music and candlelit dinners, where the entire restaurant is illuminated by only candles.
Peperoncino also has banquet facilities which can hold between 50 and 110 people. The premises are also used for conferences.
The restaurant does takeaway and catering and also offers packages for parties and receptions.