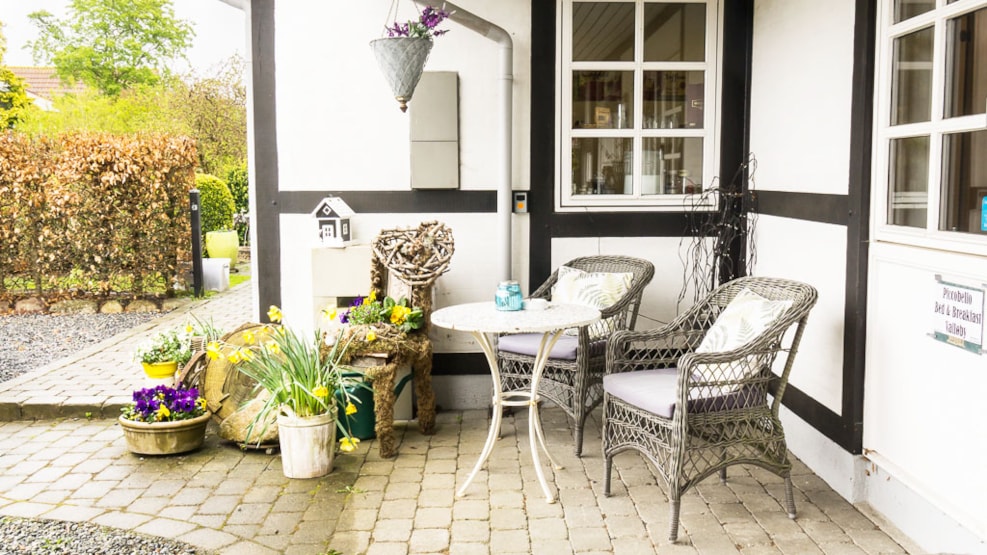 Piccobello Bed & Breakfast
Piccobello Bed & Breakfast is located in cosy Valløby, not far from the assembly hall, Vallø Slotskro and Vallø Castle, with the opportunity for lovely walks in the castle park. Piccobello is located in a rural setting, yet only 10 minutes' drive to Køge, 45 minutes to Copenhagen and half an hour to Roskilde.
With its location very close to the Berlin–Copenhagen cycling route, it is an ideal stopping place for cyclists, and also for anglers, who have the Tryggevælde River nearby.
Piccobello Bed & Breakfast has two double rooms and a separate cottage. One room has a large double bed and the other has two single beds. The cottage accommodates two adults and two children. There is a tea kitchen with free coffee and tea for the rooms and a microwave for heating a meal. The cottage has its own kitchen. There is "Chrome Cast" everywhere, so you can watch the TV channels you're used to from home. Additionally, you can use a washing machine and tumble dryer upon payment, and bicycles are available.
Outdoors you can grill and relax in the peaceful garden, which has some cosy nooks, a pavilion and an orangery for cool or windy days.
Piccobello is ideal for those who want romantic weekends, for business people, for cyclists and for families who want a peaceful stay in scenic surroundings. - And golfers are just two kilometres away from Vallø Golf.