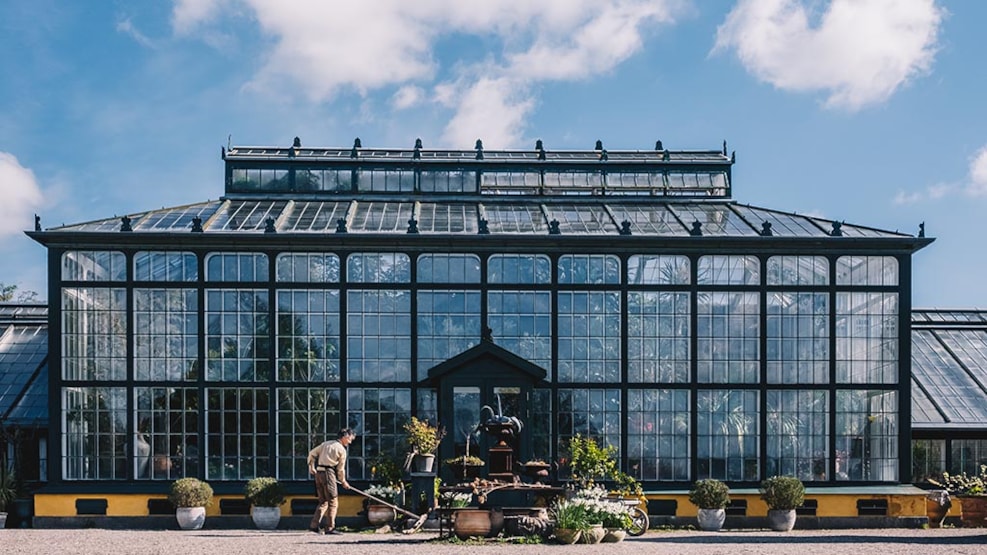 Paradehuset
The Paradehuset Orangery
The history of the orangery

The World Exhibition in London in 1851 sent a wave of inspiration through Europe with its impressive 'Crystal Palace'. In the last half of the 19th century, many large glass structures were erected in cities throughout Europe. These trends also surfaced in Denmark. Copenhagen's fourth and current Botanical Garden, built from 1872-1874, received a large and impressive greenhouse complex made of cast iron, glass and wood. 

Christian Conrad Sophus, Count Danneskiold-Samsøe, took up the post of Director of Gisselfeld in 1869. His wife was English, and he had a passion for plants and flowers. He initiated a major modernisation of the estate, including replacing the two wooden bridges leading across the moat to the castle with brick bridges. The modernisation included the demolition of Peder Oxe's old defensive wall  and the gateBråbyporten and the construction of the orangeryParadehuset in 1876, based on a design by the architect Herholdt. Paradehuset was constructed as a long, longitudinal wall which reflects and absorbs the sun's rays. The glass-covered main facade, which faces south, leans up against this wall with its load-bearing iron construction. The entire structure is a listed property.

The Paradehuset Orangery today

In the Orangery you'll find the Gisselfeld plant collection, as well as plants and pots for sale. Primary emphasis is placed on historical plants, all of which existed in Denmark when the structure was built.  In the former 'orchid room' you can find plants for sale (the selection varies by season), including the following varieties: small myrtle trees, fragrant geraniums (approx. 25 different types) unusual begonias, exotic orchids,winter flowers, white and blue camellias, agapanthus, fruit-bearingolive trees as well some herbs, medicinal herbs and perennials. In the old ' potting room' you can find a selection of handmade pots, both antique and new, and the following: reprints of nineteenth century botanical maps, booklets about medicinal herbs and historical plants from the New York  Botanical  Gardens, hand-painted 'Botanique' porcelain from France,scented candles with botanical fragrances from around the world, baskets from Mediterranean countries such as Syria and France, as well as cards and envelopes in gift boxes. Under the large medlar tree, time stands still, and for a short while you can experience a world of new scents and impressions. 
Visit the Paradehuset Orangery and let yourself be enchanted.
Tea room Nattergalen
You can also visit the tea room, Nattergalen (the nightingale), where you can enjoy tea and other light refreshments.