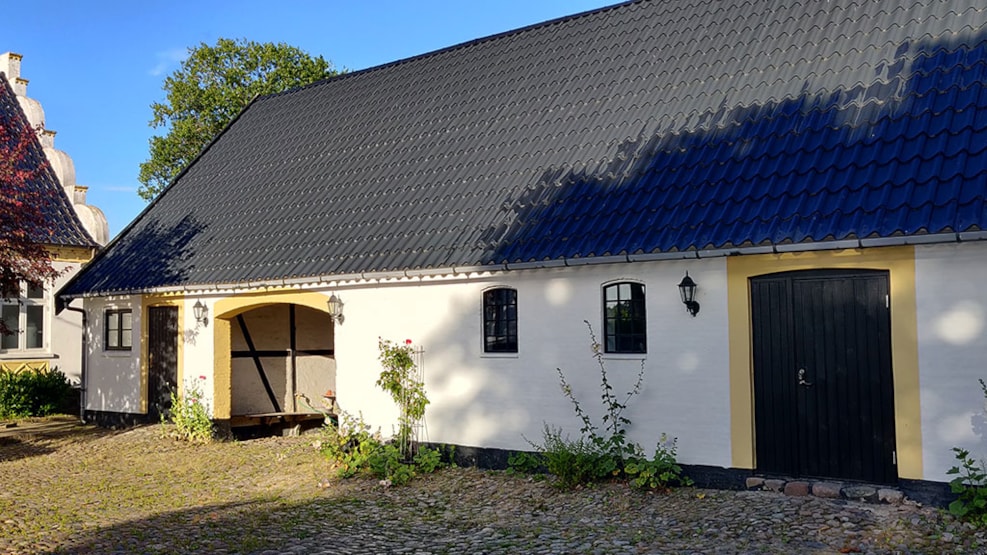 The old stables - Fulgsanggaard
Fuglsanggaard is the ideal place for those of you who want to live in the middle of nature, close to forest and beach.
Furnishing: Entrance Hall with access to a large, nice bathroom and access to the living room / kitchen. The living room contains a cozy sofa arrangement, with a view to the terrace, a dining area with room for 8 and a well-equipped kitchen with dishwasher, oven, microwave and fridge/freezer.
In the living room there is a large glass section with a door that gives direct access to the private west-facing terrace. From the terrace there is a view over the fields with plenty of opportunity to see many kinds of wildlife. The terrace is furnished with a large garden table, chairs, parasol and barbecue.
From the living room there is access to the bedrooms. One bedroom is furnished with a large double bed and a small desk. The second bedroom is furnished with a bunk bed, where the bottom bed is a double bed and the top is a single bed. In both rooms is a chest of drawers with a hanger bar.
It is not permitted to bring domestic animals to the "Stable".
Activities: At Fuglsanggård we have established a "Pick your own garden" with berries, fruit and vegetables. From June until well into autumn, it is possible to pick berries and vegetables. If you don't want to pick yourself, you can buy the same things in the farm shop, where you also can buy jam and a whole lot of other things. During the season there will be various events in the garden.
Trotting in the surrounding area: The Sjællandsleden, a more than 1000 km long network of walking tours, goes right past Fuglsanggård. But if you are not up for very long trips, you can e.g., take a walk down to the nearby Bird Reserve at Maderne. It is beautifully located at the entrance to Præstø Fjord. Or take the forest walk with a view of the sea and the opportunity to see seals relaxing on rocks out in the sea.
Slightly longer trips: The location on beautiful Jungshoved is ideal for trips to Møens Klint, Stevns Klint (UNESCO World Heritage Site) and not least a visit to the fantastically cozy town of Præstø with good shopping opportunities and several restaurants, including Frederiksminde with a Michelin star. In the immediate area, there are several castles, parks and museums that are worth a visit. Or take a day trip to Copenhagen.
Practical information:
Bed linen and towels are included
As a starting point, no meals are included in the stay.
Booking: Minimum two nights 
Price and conditions:
Indicative price per night: DKK 750. The price applies to two people.
Price supplement per person in addition to 2 people: DKK 275/night. (Children up to 2 years old are free)
Final cleaning: DKK 400
Laundry: There is access to a washing machine and dryer in a small bathroom with direct access from the yard. Price per washing: DKK 30. Price per drying: DKK 30.
Grill: Available at both residences. Free to use, but you have to buy your own charcoal.