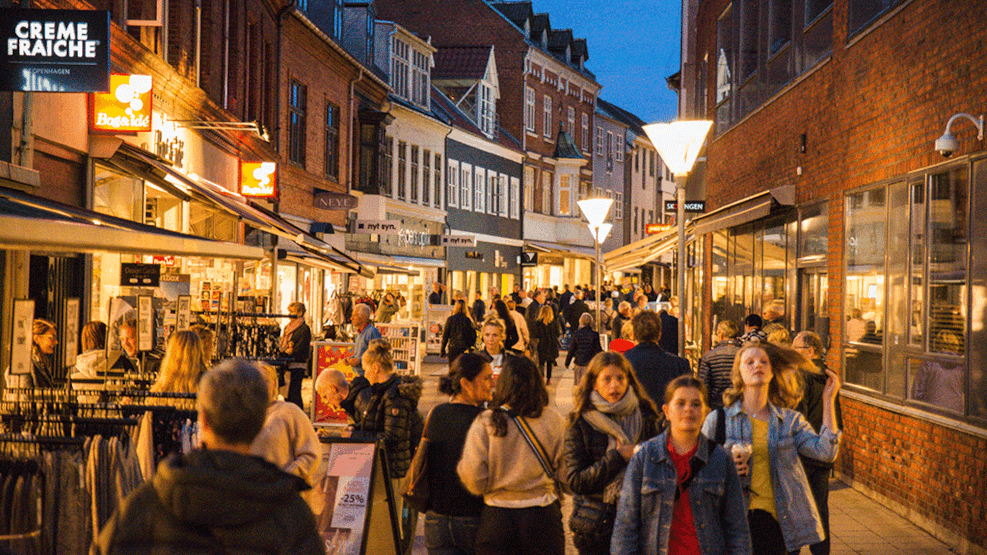 Naestved City
Næstved City offers plenty of excellent shopping opportunities in a variety of charming speciality shops. Every Wednesday and Saturday, a market is held on Axeltorv Square right in the city centre, where shoppers can buy fresh fruits and vegetables, beautiful flowers, fresh fish and cheese. Markets have always been part of life in Næstved and date back to 1135, when Næstved received its municipal charter.
But Næstved has kept up with the times, and today it boasts beautiful gable paintings created by international artists who come to Næstved to practise their art. At www.naestvedkunstby.com, you can see the many beautiful gable paintings and read more about the artists.
The association Næstved Cityforening puts on lots of activities for both adults and children throughout the year. So, when you're not busy on a shopping spree in town, you can enjoy jazz in the streets or pumpkin carving and Halloween fun in October for the children. 
You'll find nature close to the city. Just a five minute walk from Axeltorv Square is the lovely Rådmandshaven forest with the tranquil waters of the Suså River. If you love nature, rent a canoe at Slusehuset in Rådmandshaven forest and paddle along Zealand's largest waterway. Just 20 minutes away by canoe from Slusehuset is Herlufsholm Boarding School. The former Benedictine monastery was founded in 1565 as a boarding school for 'sons of noble and other honest men' by Birgitte Gøye and Herluf Trolle.
At the harbour in Næstved City, during the summer, you can sail on the Friheden sightseeing boat to Karrebaeksminde via Gavnø. Sit back and enjoy the ride, which also takes you past the castle Gavnø Slot.
After all those hours of shopping, finish your day at one of the many restaurants in the city centre and invite your taste buds to sample both Danish and foreign specialties. 
Have fun in Næstved City.