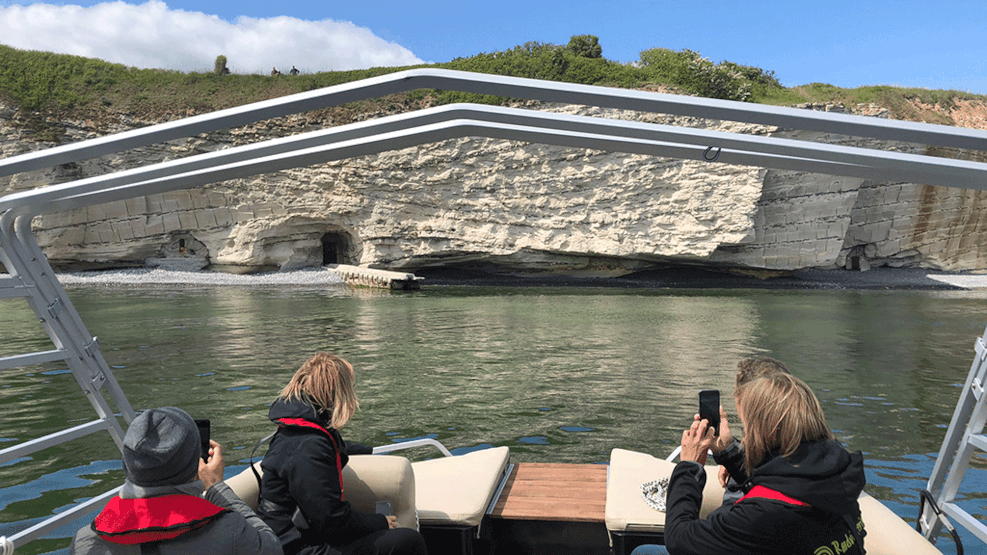 Klintens Boattours
Stevns Klint UNESCO World Heritage and Klintens Boattours now give you a unique opportunity to get get very close to the area. Hiding one of the best evidence of the mass extinction of 50% of all life on earth, including the extinction of all dinosaurs.
You will get a 2-hour boat trip, which begins at the harbor in Rødvig, takes you past Rødvig flint furnace up to Boesdal limestone quarry and onwards to Højerup church and then returns to Rødvig harbor.
On the tour, there will be stories about the exciting world history Stevns klint is holding.
Their brand new triton pontoon boat has a total of 12 berths. Everyone is very welcome on board, however, you must be at least 14 years old or according to an adult.
The season from May 1st to June 15th and from August 15th to September 30th they sail on Fridays and weekends. In the high season they sail daily.
If you want to book a tour on a regular departures, you have to do it on their website. It is possible to take the chance and show up at the port, but thei can not promise a spot.
If you want an exclusive trip with the family, a gathering of friends or a company, they can be contacted by email for more information.
Since Rødvig lies on an east-facing coast, sometimes there is foam on the waves. A little wind and rain is no obstacle, as the boat is very stable and can be partially / completely covered. If the wind is too strong and from the wrong side, the trip will be canceled and you will be notified as soon as possible.
For further information, please read their FAQ on the booking page.