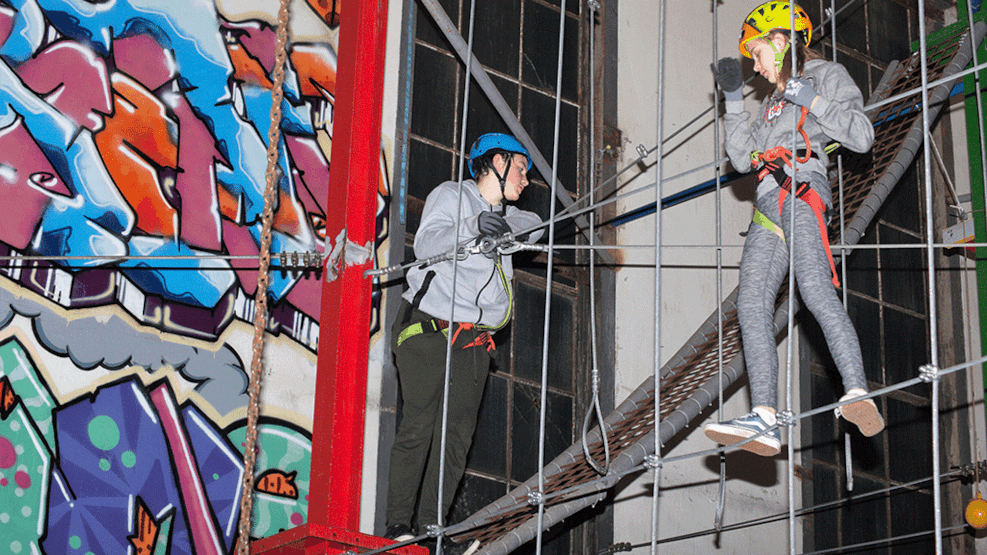 Klatrecentralen / Climbing Center
A climbing universe with activities for both children and adults. It is an obstacle course where there are obstacles at varies heights and levels.

You decide whether you want to climb to the top or take the challenges at a height of 1.6 meters. It's always fun to see your companions and family in a new way, laughing together and feel the adrenalin.
At Klatrecentralen we focus on fun, physical learning and challenges - and everyone can join.

Practical information
The climbing center is not heated but you will get warm when climbing. Bring a pullover and maybe a pair of gloves.
Since our high rope course is built on the first floor of an old factory building without elevator, there is unfortunately no wheelchair accessible access.
To climb, you must be at least 120 cm high. Children accompanied by adults
Max weight per person to climb: 120 kg.
Everyone is welcome at the Klatrecentralens Café. From the café it's possible to watch the high rope course, the café is heated and you can buy coffee, soft drinks and gloves. You must bring your own food.