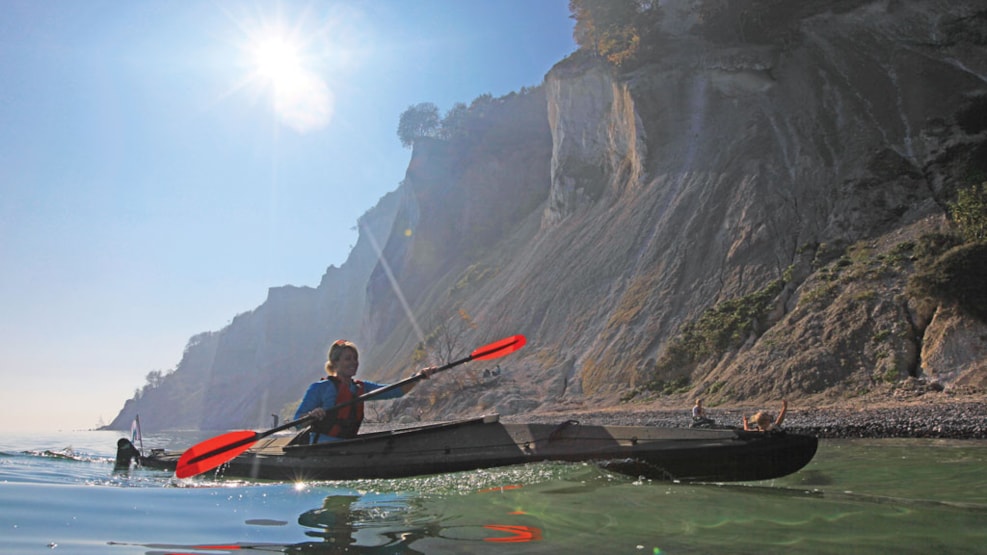 Kajaktur fra Klintholm Havn til Møns Klint
Take the beautiful kayak route from Klintholm Harbor to Møns Klint, the trip is approx. 18-22 km long and takes you on a beautiful and dramatic trip into the Baltic Sea, where you may be lucky to meet seals, guinea pigs, sea eagles, peregrine falcons or an osprey.
It is possible to put the kayak in the water by the bridge outside the smokehouse in Klintholm Harbor, but it is also possible from the two beaches on either side of the ports.
Also be aware that there are a lot of stones, close to land so you can advantageously row some distance from land. In addition, there may well be some waves, wind and current. Particularly off the lighthouse of Møn you have to be a little extra aware, as the Øresund meets with the Baltic Sea, which can provide restless water.
The trip requires rowing experience, and the offshore wind may well be controversial, therefore it is recommended that you check the wind direction, do not leave alone and take good care of.
The trip is very beautiful and by the cliff the water changes to a mere turquoise blue color. Remember to save some effort for the trip back as it goes the same way. You can go ashore at one of the stairs and enjoy the beach or visit the GeoCenter. At Mandemarke you can use the shelter space for a little rest.