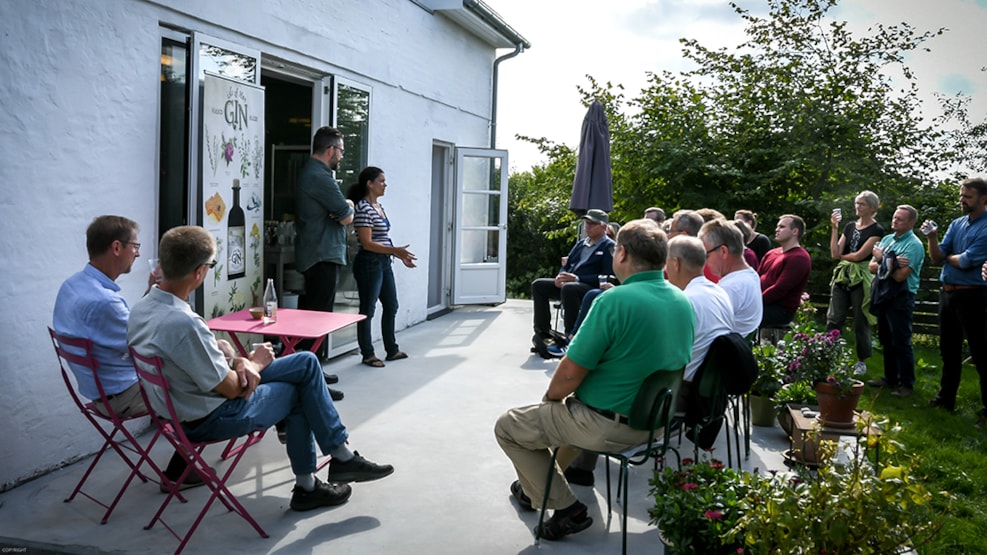 Isle of Møn Spirits
In Askeby on Møn, Isle of Møn spirits is located, a company founded in 2016 by Sara and Uffe.
A project that at first was just an experiment that was about making a traditional gin made exclusively on local botanical ingredients that grow naturally on Møn.
What started with a single gin has over time evolved into several varieties of gin and since then has also included snaps. In the distillery, which is housed in the old barn at Sara and Uffe, the harvest is hand-sorted and the various local ingredients are distilled. Then the right flavor composition is found.
In addition to the many delicious flavors of gin and snaps, Isle of Møn also offer different courses. Among other things, cocktail courses, masterclass in making his own gin, and various combinations of guided tours and tastings in the distillery. Visit the website to read more about it.
Local gin based on a harvest manifesto in harmony with nature
Isle of Møn Spirits is a partner and ambassador of the Møn UNESCO Biosphere Reserve. The diverse nature is the basis for our unique Møn Gin. Together with many volunteers, we harvest the raw materials in the nature of Møn every year. On this basis, we have developed a special harvest manifesto that focuses on what we stand for, how we work and why we do it. You can help with the harvest. Find the dates on our homepage. It is also possible to visit us in our distillery. Guided tours, events and opening times can be found on our website www.isleofmoen.com.
Isle of Møn Spirits is a Møn UNESCO Biosphere partner.