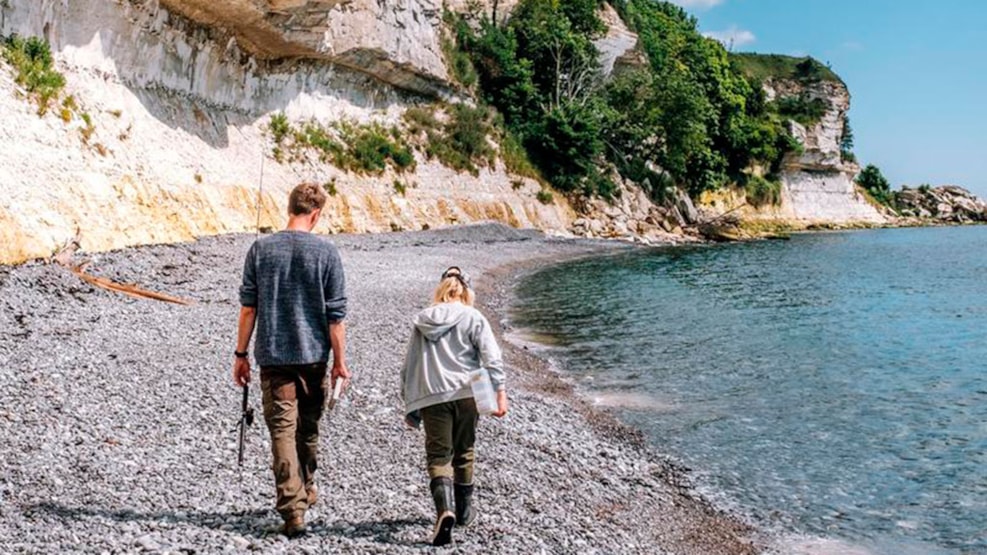 Inshore fishing from Stevns Klint
Beautiful Stevns offers fantastic trout fishing.
In the angling community, Stevns is known as one of the top places in the country to fish for trout.
Stevns will always guarantee great nature and unique fishing experiences. There are a number of exciting fishing spots from north to south, and fishing under the cliffs is especially good if you want to catch large, healthy fish year round. This is due to the deep waters at the cliffs, where the sea trout's preferred prey, the sand eels, pass by – and the sand eels are followed by the sea trout.
You can enjoy all kinds of inshore fishing from Stevns – including excellent fly fishing. Stevns is also known for its spin fishing, often using slightly larger bait to appeal to the larger sea trout. The chance that one of these big fish will bite is always there when you fish at Stevns – and that bite is often hard and unexpected!
Besides great fishing, Stevns also offers impressive geological experiences, and the cliff is now included on UNESCO's list of World Heritage sites. This is particularly evident if you visit the cliff below the church Højerup Kirke, which, in addition to being a great holidaying spot, is also a good place for fishing.
Some of the fishing areas in Stevns are difficult to access, and require you to walk a long way along the coast. The most famous and easily accessible fishing spots are mentioned here (from north to south):
Strøby Egede
Køge Sønakke
Bøgeskoven
Holtug Gl. Kridtbrud
Højerup Kirke
Boesdal Gl. Kridtbrud
Lund
The fishing spots can also be found on this map