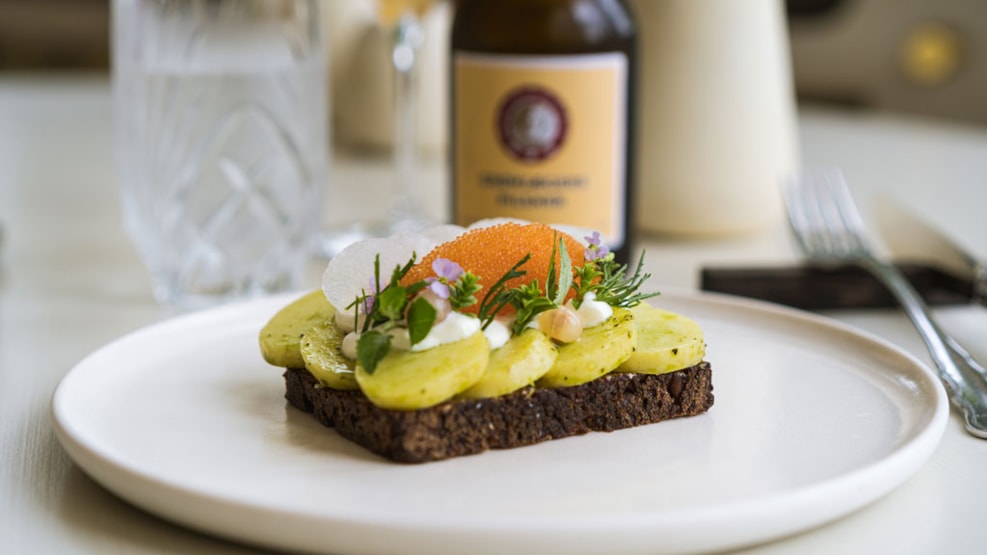 Ingrid - Frederiksminde
Hotel Frederiksminde's lunch restaurant Ingrid is an open sandwich restaurant that is a little out of the ordinary. Here, each open sandwich is lovingly crafted, and the menu is bursting with local delights that will make your taste buds sing and dance.
Ingrid is an open sandwich restaurant with beautiful Præstø Fjord just outside the large panoramic windows. The open sandwiches are made from the finest locally sourced ingredients and from the restaurant's own kitchen garden, which is tended all year round by a local farmer.
Chef Jonas Mikkelsen has composed the lunch offerings, which are based on the classic open sandwich universe. But the man at the helm always has a surprising ace up his sleeve, such as a fermented mustard for the fried herrings or an egg custard for the mushroom toast.
The Frederiksminde evening restaurant holds a Michelin star and has even been awarded the green five-leaf clover, the Michelin Green Star, which is awarded to kitchens with an exceptional focus on sustainability.
See more on the website to book a table.
Nearby attractions include Nysø Manor (which houses the Thorvaldsen collection), and both Copenhagen and Møns Klint are within 1 hour's drive.