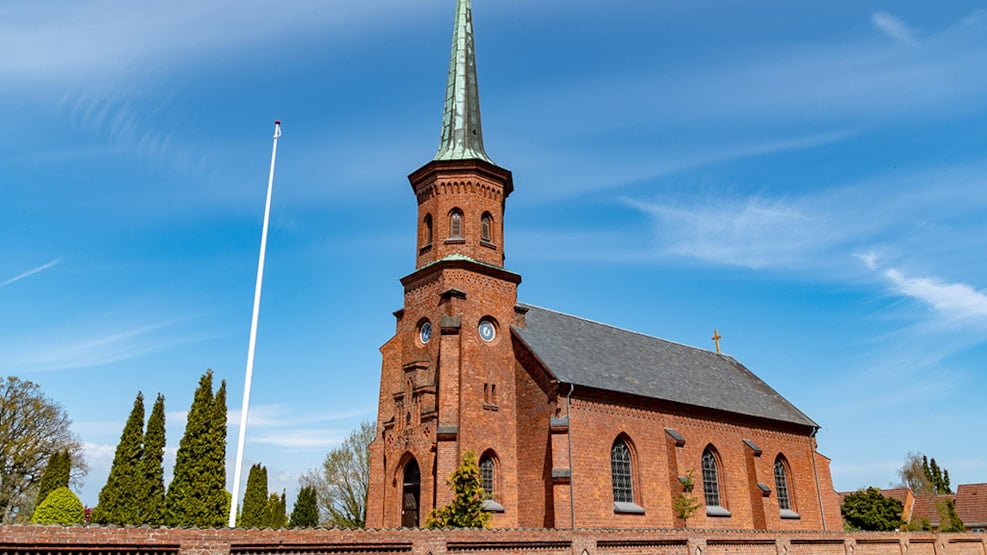 Hylleholt Kirke
The church was inaugurated on 8 September 1878, and has Frederik Count Moltke ofBregentved to thank for its existence. He was a partner in the limestone quarry in Fakse and paid for the construction along with another partner, the abbeyVemmetofteKloster. The church was built in a modified English Gothic style.
In 2002 the church was completely renovated. 

The new altarpiece and altar cloth are by artist Maja Lisa Engelhardt.

As the population of Faxe Ladeplads grew, the need for a church to serve the area arose. On the initiative of foreign minister Count Frederik Julius Georg Moltke ofBregentved, construction of the church began in 1875.

The count did not live to see the completion of his work, dying just two days after the groundbreaking ceremony. The topping out ceremony was held in 1876, the year which is inscribed above the church door. The church is in English Neo-Gothic style, and the furniture is an example of excellent wood carving craftsmanship.