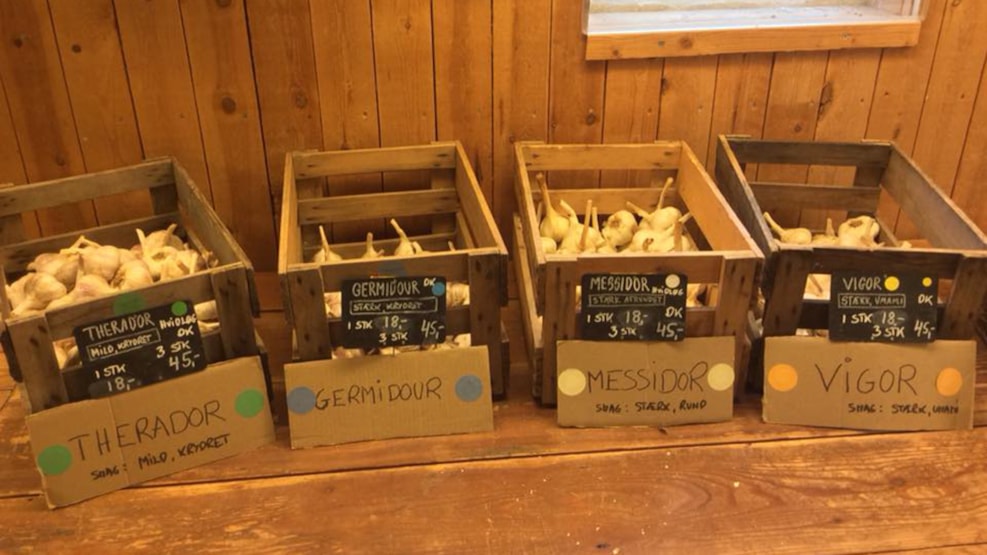 Hvidløg og Vin gårdbutik
Lotte and Peter Lei have during the last 20 years developed a way of producing garlic under Danish climatic conditions and today they carry on a specialised marked garden and packing room with focus on garlic.
3 hectares are used for raising different sorts of garlic.
In the couples farm-shop you find different tasting sorts of garlic and garlic set for growing in your own garden as well as an exciting selection of wines.
Lotte and Peter have been importing ecological and biodynamic wine since 1999.
You find "Hvidløg & Vin" on Lotte and Peters idyllic farm situated app. 1 hour's drive south of Copenhagen close to the beautiful Vemmetofte wood in the eastern part of Faxe district.
You can visit the farm all year round or you can visit the net-shop www.hvidloeg-vin.dk
If wanted a showing round and a garlic/wine tasting can be arranged at a fixed price.