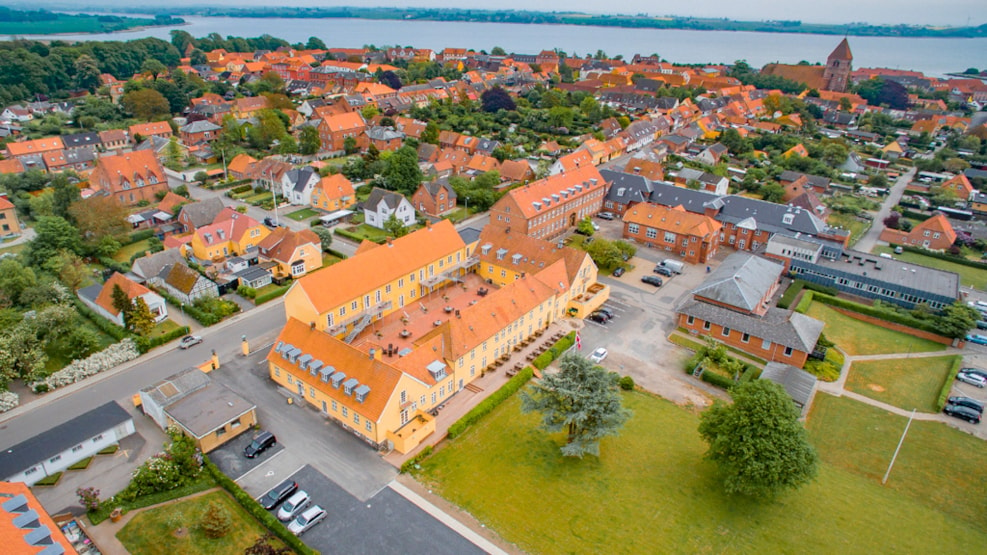 Hotel Residens Møen
Hotel Residens Møen is a combined holiday and conference centre with double rooms, apartments, a restaurant and conference facilities. The beautiful yellow buildings used to be used as a navigation school, and were later used as a jail for wealthier citizens. If the walls could speak, they'd probably tell many frightening and interesting stories.
The apartments at Hotel Residens Møen are bright and well-decorated, with a special focus on guests' comfort. We have 18 modern hotel apartments with room for 3-8 people, 6 double rooms and 7 suites. Extra beds are available for adults or children, on request and at additional cost.
In addition, four of the apartments are particularly suitable for guests with disabilities.
Holidays with a clear conscience - enjoy your 98% CO2-free stay
As a guest of Hotel Residens Møen, you can switch on heating and lighting with a clear conscience, as both electricity and heat are supplied by the sun. In 2013, the owners of the Residens Møen, built a solar park of approx. 3 hectares, about 5 km outside of Stege. The municipality also operates a 6 hectares solar park, which supplies Residens Møen with energy and ensures that you can enjoy your stay with a clear conscience.
Local life is important to us at Residens Møen. That is why we work with several local companies to care for body and soul.
Our restaurant offers great culinary experiences. Here, we use a lot of locally produced and preferably organic raw materials, which we like to buy from the farmers of the island and the fishermen in the port of Klintholm.
We protect the environment by sorting waste and using eco-labeled products, as well as energy-saving technologies in everyday life.
Residens Møn is a Møn UNESCO Biosphere partner.