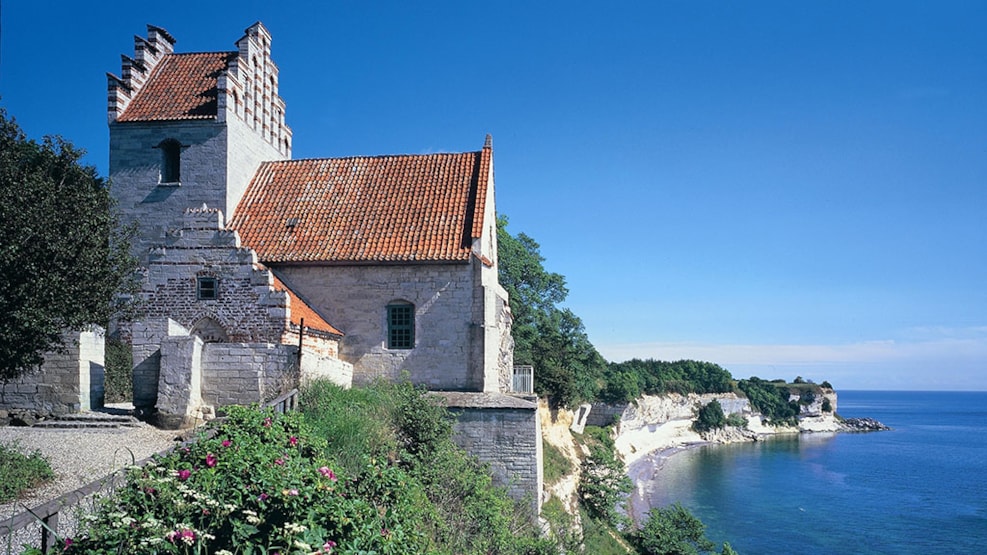 Hoejerup Old Church
The church was built by a boater in distress who promised to build a chapel if he was saved.

The church is located on the 30 m. high cliff. It was consecrated in 1357 , but the sea undermined the cliff, and in 1928 overthrew the choir in the sea. The rest of the church is now secured by underpinning.

Since the church was built around 1250 the edge of the cliff had approached ruthlessly. According to local legend the church moved every Christmas night a tiny step towards the country, but it was not enough to save it. The last service was held in 1910. You can stand inside the church and look out over the sea through a door.

In the 1600s the cliff started to chip away at the cemetery with the macabre result coffins and skeletons started sticking out of the cliff. In 1910 they gave up to use the church, it would take another 18 years before fate caught up to the building.

On 16 March 1928 at five o'clock in the morning there was a cliff collapses at Hoejerup. It's happened before and since, but this cliff collaps was special because it took the chorus from Højerup old. Church into the fall. 

The partially ruined church quickly became a major attraction. In the course of three days visited around 40,000 people Hoejerup. They were fascinated by the unusual sight of a torn church and what was left of the choir, altar, coffins and skeletons on the beach. Quite soon after the crash, it was decided to reinforce the church against further slides. Today the towering church stands proudly at the extreme edge of the cliff, and it vanished choir has been replaced by an observation deck that provides a great view of the cliff and sea.

The church was built in Romanesque style in the year 1250.

Please note that you must pay a parking fee on DKK 40. This fee goes to op hold memorial grove and surrounding areas.
See the church in 3D here