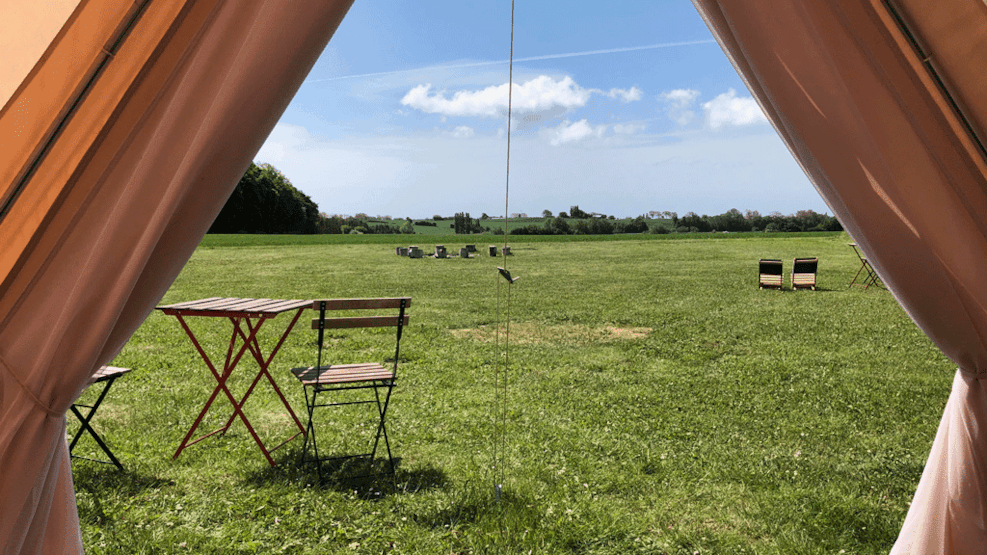 Helles Have Glamping
Helles Have Glamping is a quiet area out in the middle of nature with a view of fields, forest and Stege Nor.
Here are 3 luxury tents in different sizes, which are furnished for 2 people with good box mattresses, tables, chairs, crockery and blankets. In the large tents there is also a small cosy nook with 2 armchairs. The beds are made with soft bed linen and towels. The setting is for adulthood, where you can enjoy the silence, nature and each other.
Not far from the tents is a shared campfire, where you can light a fire in the evening and experience the dark starry sky (Møn Dark Sky Park) to the crackle of the fire. The nearest neighbor is a small public forest and the place has a path down to Stege Nor - so there are good opportunities for a nice little evening or morning walk.
It is possible to buy breakfast in the farm café, where everything is homemade. The café is open until 5 pm, and offers, among other things, smørrebrød, homemade ice cream and cakes.
Close to the glamping area is a small outdoor kitchenette with a microwave, an electric kettle and a small fridge. The bathroom with toilet and shower is located in the farm building approx. 50 meters from the glamping area.
Helles Have is 3 km away from Stege and you can borrow a bike if you want a ride into town. The bus stops by the roadside if you wave to the driver or ask to be dropped off.
The smallest tent, Anemone, has two made-up single beds (box mattresses) on each side of the tent, a small table and two chairs.
The middle tent, Hyacint, is large and spacious with a double bed, 140 cm. There is a small dining table with two wicker chairs just inside the entrance of the tent and a coffee table with two armchairs.
The largest tent, Rose, is furnished with a large double bed, 180 cm. in the center of the tent. On one side of the tent is a small dining table and two wicker chairs. On the other side is a small coffee table and two chairs.
Shared facilities for the glamping area: Bathroom, fire pit, microwave, mini fridge, kettle, rental bicycles.
Open from May to September
Helles Have also has a farm café, which serves lunch, cake and ice cream, see more at www.helleshave.dk