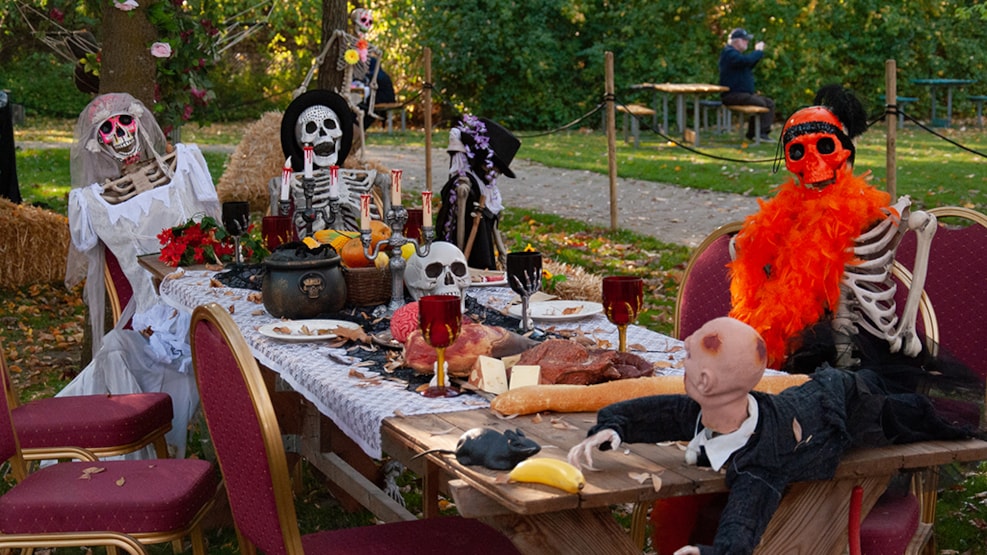 Halloween in BonBon-Land
Geel the Halloween spirit when BonBon-Land opens on Saturday, September 30th 2023
There are plenty of exciting activities for the whole family. The kids can go Trick or Treating in the park, count pumpkins in the Pumpkin Hunt, or solve the brand new Cemetery Mystery. If you enjoy a good treasure hunt, try to find the Lost Gold Coins with the Halloween Treasure Map that you can receive at the entrance.
If you want it to be even scarier, you can also try one of the four haunted houses, where there are thrills for both the brave and the less brave.
This year's novelty is the scariest haunted house: The Pirate's Curse. It was created in collaboration with Dystopia Entertainment, and inside, you can experience pirates who have been harmed by getting too close to the cursed treasure. Since the treasure was opened, evil has spread among the pirates. Common to all is that the wicked Pelle Piratsprøjt does not allow anyone to come near his treasure.
Halloween at BonBon-Land is for the whole family, so you can easily bring small children and walk around to enjoy the atmosphere and let the kids have fun on the playgrounds. This also means that there is something for the older (or brave) adults, especially in our new haunted house, which is very scary.
You can experience Halloween every weekend until October 22nd and the ENTIRE autumn holiday. Remember, your children would choose BonBon-Land.