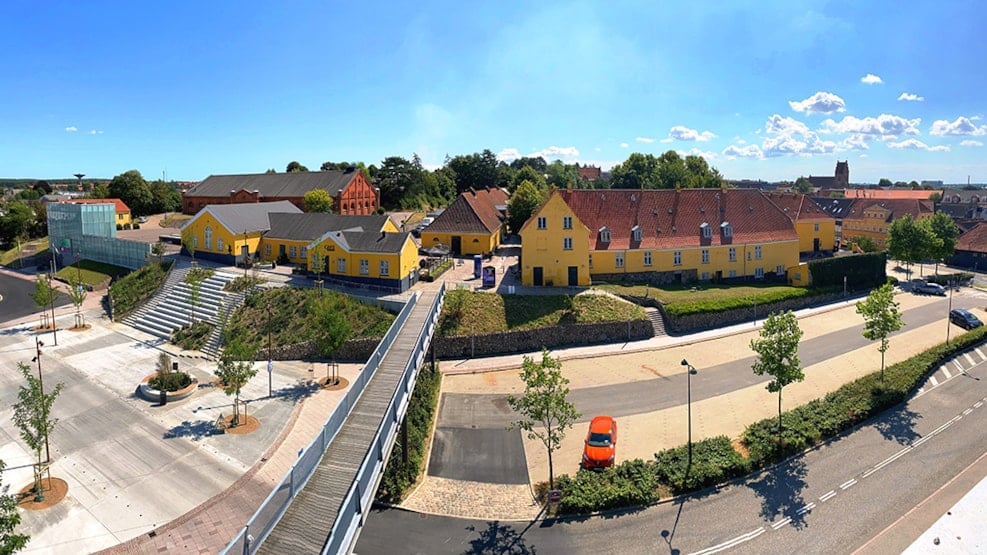 The Groennegade Barracks
Being Southern Zealand's biggest cultural center with venues of their own, graphic museum, the municipal theater, Center for Artistic Talent Development and Cultural Center for Children's Workshops Grønnegades Kaserne Kulturcenter is the cultural heart of Næstved Municipality.
The area used to be the barracks of first light cavalry dragons and since hussars. These days a lot of different types of unions and groups use the many rooms in the aged buildings, such as local pop, jazz and theater associations. The sheer size of the area also makes room for a lot of informal communities of interest such as graffiti writers, skaters, basket ball players and veteran car enthusiasts meeting each other and admiring old cars every Tuesday in the summer. 
Each year "Ny Ridehus" the biggest venue of Grønnegades Kaserne Kulturcenter presents a variety of concerts with a broad spectrum of shows and musical genres. In the daytime Ny Ridehus is often used for conferences.
Feeling intrigued to attend a concert or show? www.gkkultur.dk gives you the full programme.
All guests at Grønnegade Kaserne Kulturcenter are welcome, and the staff will answer any inquiries via +45 5588 3950 or when visiting the ticket office. We're fluent in English, and helpful in German.