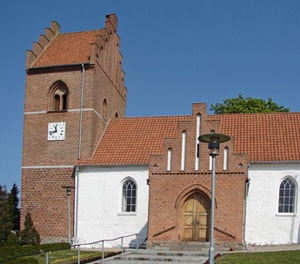 Glumsø Church
Nave with Romanesque central part, Gothic western part and medieval accretions: choir, tower and church vestibule. As will be seen, the church was rebuilt in 1875-1876 and only small parts of the parapets of the choir and the western gable of the nave have been preserved.

Late Gothic communion table front from about 1520 with painting. Altarpiece in rich auricular style from about 1645 and probably from the workshop of Abel Schrøder in Næstved; in the side panels we see two female statutes (Faith and Hope), on the base the foot washing and in the top panel a crucifix group. Carved crucifix in late Gothic style. Romanesque granite font cut in one stone.
Pulpit in auricular style, probably also by Abel Schrøder.
The church has hymn boards from 1994 and a monument on a common grave from 1996, both made on the basis of sketches and models by the artist Ullrich Rössing.

Glumsø Church is a road church and thus open to visitors.