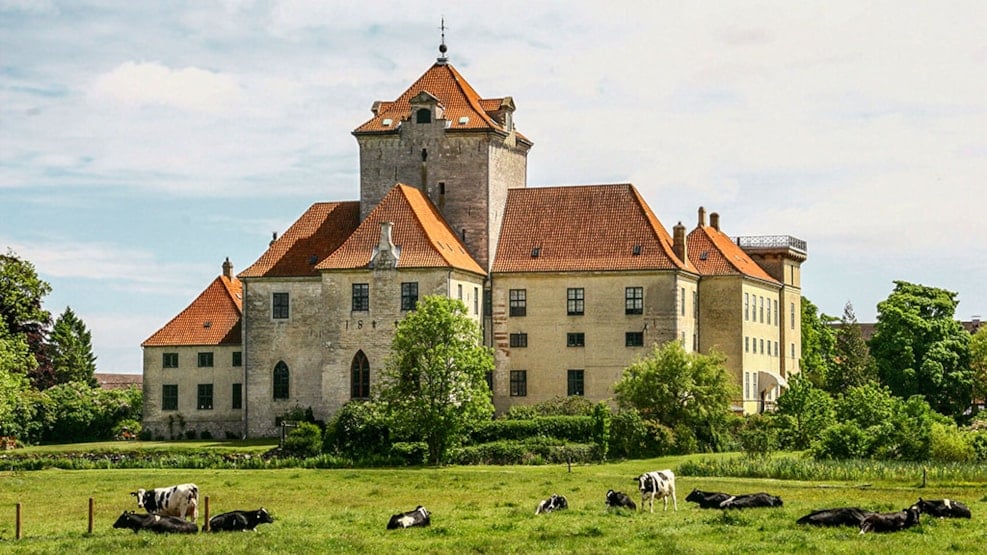 Gjorslev Castle
Denmark's largest medieval castle
At Gjorslev, there are stories about kings and queens, about nobility - and those who became it, about farmers and other common people, about ghosts and legends. Visit the castle on tours, for activities and major events and experience the thick limestone walls tell their story all the way back to the time when Margrete 1st sat on the throne.
Brief history of Gjorslev
Gjorslev Castle was built as a bishop's fortress in 1396 by Peder Jensen Lodehat. He was bishop of Roskilde, Margrete 1sts trusted advisor and Chancellor of State. The two were, among other things, the forces behind the Kalmar Union.
The castle remained in the possession of the Bishop of Roskilde until the Reformation, and thereafter the estate changed hands between noble families, merchants and the royal house until 1925, when the estate was bought by Adolf Valdemar Tesdorf, who is the great-grandfather of the current owner.
The original cross-shaped fortress, built in local limestone, is still the main building of Gjorslev Castle. Over time it has undergone renovations in different styles and received two additions, colloquially known as the south wing and the north wing.
Your experience
It is possible to visit Gjorslev Castle for planned activities. Join us for guided tours, holiday activities, exclusive cultural evenings or book your own experience.
Every year Gjorslev Estate is part of "Herregårdenes Dag" (Manor Day) on the 3rd Sunday in August, where Bredgade, the courtyard and the castle park are filled with market stalls, culture and activities.
You are always welcome to visit the castle park, where there is free access.
Gjorslev Gods today
When you visit the castle with a ticket in hand, you will walk through the listed street Bredgade up to the castle courtyard, but you will also enter a working farm and get close to private residences. Gjorslev Estate is still run as it always has been – with agriculture, forestry, hunting and rental housing. Therefore, respect the signage in the area and avoid exploring on your own, even if you are curious.