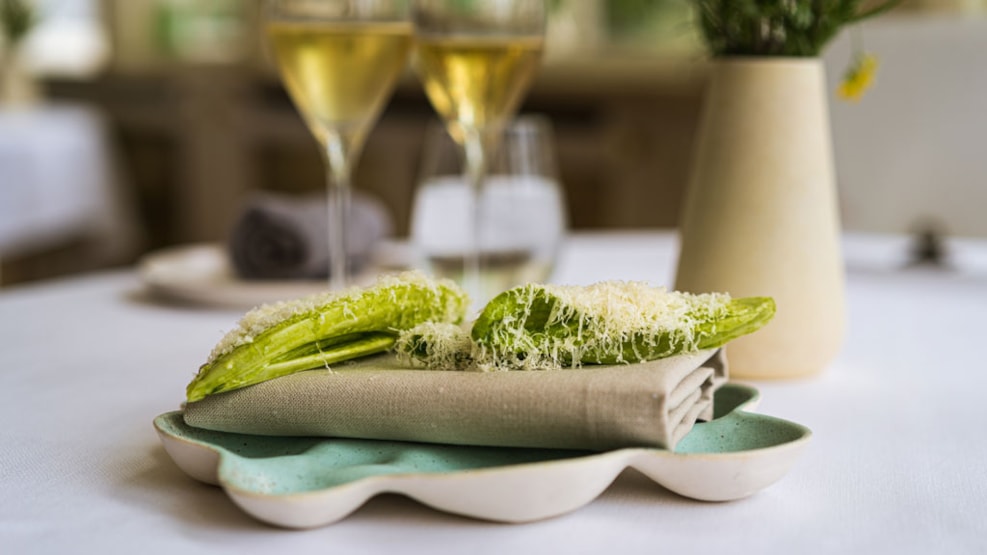 Frederiksminde
Perched atop the town of Præstø and overlooking the fjord lies one of the great heavyweights of Danish gastronomy. The Michelin-starred restaurant Frederiksminde serves Nordic cuisine at its best. Local produce and vegetables from the kitchen garden make their way onto the plate, and their sustainable focus has earned them the Michelin Green Star.
The Michelin-starred restaurant Frederiksminde offers one taste explosion after another. Every day, the restaurant receives fresh supplies from its own kitchen garden, which they turn into small, appetising dishes. Over the years, vegetables have come to play an increasingly prominent role in the chef's cooking, but top-quality fish and meat also find their way onto the seasonal menu. Frederiksminde has attained a level of sustainability that few can match and takes pride in incorporating locally produced ingredients into its gastronomic universe.
Chef Jonas Mikkelsen, one of Denmark's most talented chefs, surprises time and again with his ability to extract as much flavour as possible from nature's treasure trove. Frederiksminde is simply in a league of its own. Even the view takes your breath away. Because Frederiksminde is idyllically and discreetly sheltered by nature's embrace, just 50 metres from the shore of Præstø Fjord.
See more on the website to book a table.
Nearby attractions include Nysø Manor (which houses the Thorvaldsen collection), and both Copenhagen and Møns Klint are within an hour's drive.