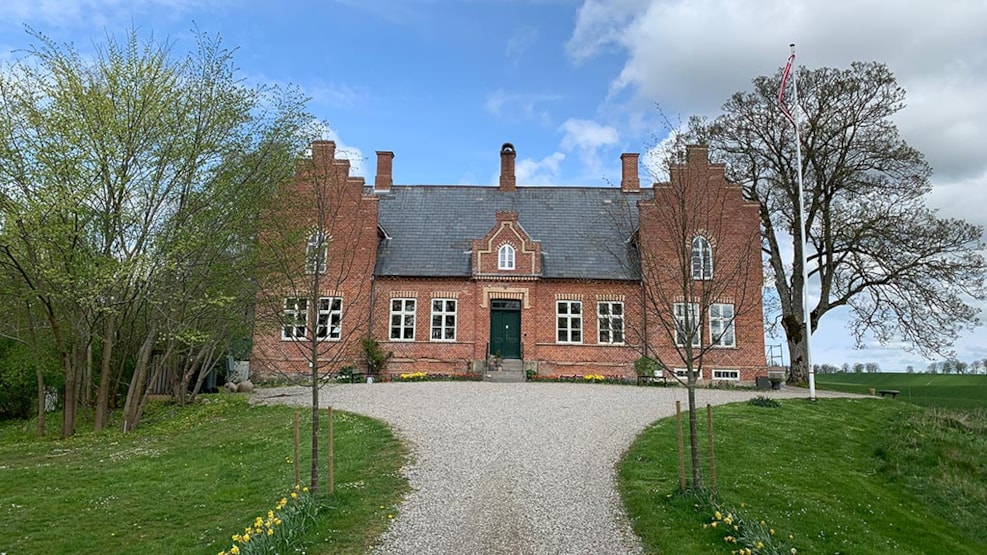 Ferielejlighed Doktorboligen ved Gisselfeld Kloster
In the old doctor's residence of Gisselfeld Kloster on the first floor is this newly renovated apartment. It is approx 180 sqm large and consists of a large living room with exposed beams and sloping ceilings, two smaller bedrooms and two lofts as well as a kitchenette and a bathroom.
From the rooms there are views over the large park-like garden or the fields over to Gisselfeld Castle.
The lofts are reached via a steep staircase. On one loft there is a small extra loft where there is a mattress where smaller children can sleep well.
The place
The house is located in a very scenic location right by Susåen, not far from Gisselfeld Kloster with the award-winning Paradehus, Skovtårnet and the climbing paths at Camp Adventure, Hesede Hovedgård and the restaurants Villa Gallina and Rønnede Kro.
There are opportunities for walking or cycling in Gammel Dyrehave (park), which is located directly opposite the house or in Hesede Skov about 1 km from the house.
The home is arranged as follows:
Living room:
Large sofa with chaise longue, home cinema with 108 "screen, which is connected to Google Crome for the projector. In addition, dining area and office. There is also a wood burning stove and hammock in the room.
Bedrooms:
Both bedrooms on the 1st floor have a box spring mattress of 140 x 200 cm. as well as a small desk. The bedroom facing the field also has 2 armchairs, both bedrooms have a smaller corner closet for storing clothes.
Hemse:
The loft facing the field has a 140 x 200 cm. box spring mattress, an armchair and a seat on the landing.
The loft facing the garden has two 90 x 200 cm. box spring mattresses and an extra loft with a foam mattress of 120 x 200 cm.
Kitchenette:
With refrigerator with freezer, combi oven, induction hob, coffee machine with the option to prepare a large selection of coffee drinks, electric kettle and toaster. In the kitchenette there is a small seating for 4 people.
Bathroom:
With shower and underfloor heating. Hairdryer and shampoo.
Outdoor:
To the right of the house with a view of the fields, there is a garden furniture set with the possibility of a barbecue as well as a fire pit and BonFire with various accessories. In the courtyard there are lounge chairs and table / bench sets.
There is no washing machine in the apartment, but we are happy to lend our own if needed.
There is access to the courtyard in front and behind the house