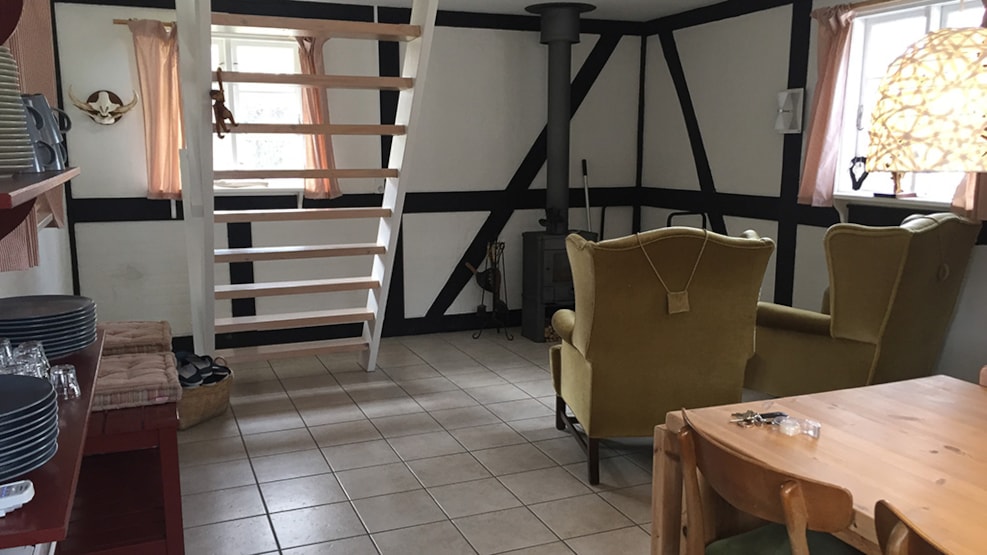 Dyssegaard B&B
Dyssegaard offers lovely and delicious facilities. Dyssegaard B&B has a living room (the "Hunting Cabin") with a wood-burning stove. There are stairs to the 1st floor, where there is a bedroom with two single box beds of sublime quality. In extension of the bedroom you shall find a new bathroom and toilet. Should it be a family with two children, there is an extra room on the other side of the bathroom with bed and bedding. There is a cot for small children.
From the B&B there is a direct view of the garden and the enclosed courtyard with terrace and garden furniture for free use.
Breakfast can be purchased for reasonable payment.
Dyssegaard holiday apartment is an opportunity if you want to spend a little longer time in calm and relaxing surroundings. The apartment (78 sqm) consists of three rooms, bath and toilet and a fully equipped kitchen, where family meals may be prepared. 
If the holiday is to be fully enjoyed, breakfast can be ordered for more payment.
There is TV in the living room if you cannot do without the daily news. 
There is free access to the terrace, where you can eat your food and / or choose to cook your own food over the grill.
For both B&B and the holiday apartment, guided tours of Dyssegaard's landowners can be arranged
with visits to various view towers for reasonable payment. From the view towers you can watch birds
and animals in peace and quiet without disturbing nature.
There are many sights in the immediate area.