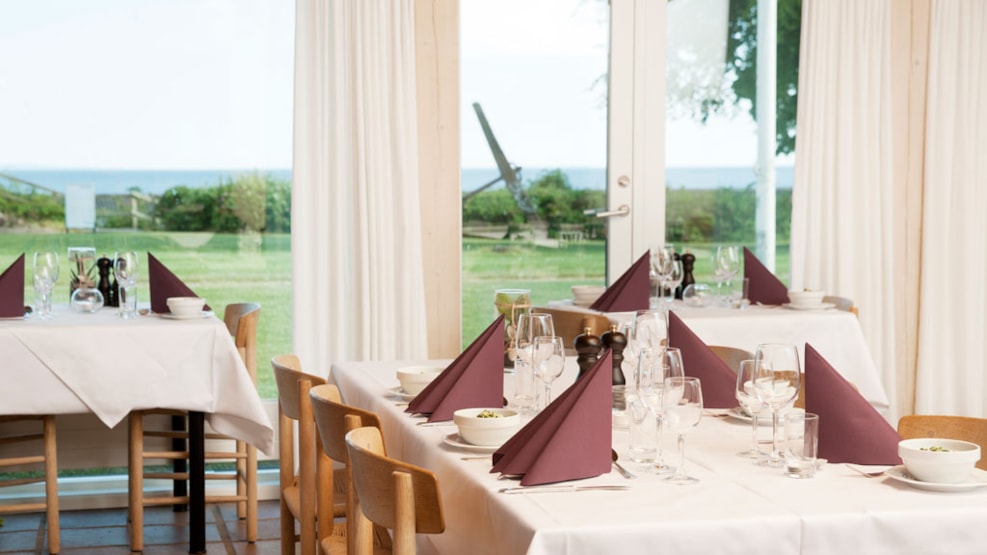 Green Experience
Conference & Hotel Klinten - Restaurant
A spectacular view
Surrounded by fantastic and beautiful nature and just a few minutes from Stevns Klint you will find conference & hotel klinten directly facing the Baltic Sea and sloping down to Rødvig's best bathing beach. This is where you can relax and enjoy the calm and peaceful atmosphere.

We offer 58 comfortable double rooms of which 22 are newly renovated seaside rooms with own balcony or terrace with a sea view. As our guest you can enjoy a pleasant time in one of our many lounges where you can read the day's newspaper at your leisure with a cup of coffee, or you can work up a sweat in our entirely new exercise room. After a spell where your muscles have been challenged on the exercise machines, a turn in the sauna is wonderful where you can relax and get your pulse down again.

If you would like to challenge each other in a game of billiards, table football or Wii game, then just go for it in klintehulen in the basement all while enjoying a glass of wine or a cold beer.
When you get hungry, we will welcome you to the restaurant where the mantra behind our food philosophy is - when delicious is natural. With the basis in the season's organic raw ingredients, we serve high quality food that you can enjoy in our restaurant, which has a panorama view of the Baltic Sea.
We look forward to welcoming you to Rødvig and to Stevns.
Transport:
Car - an hour's drive from Copenhagen
Train - 30 minutes by local train from Køge to Rødvig
Distances: 25 km from Køge, 100 km from the Great Belt