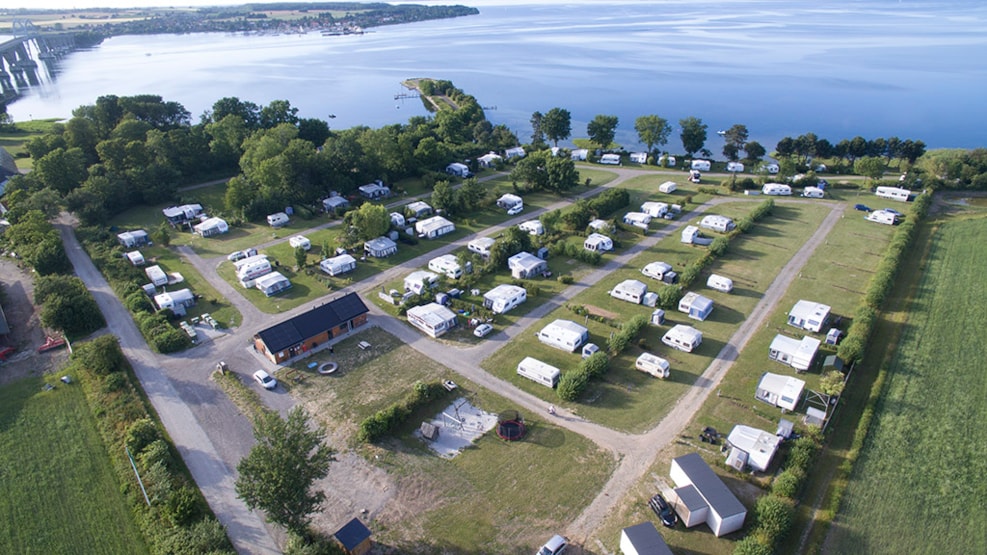 Camping Mønbroen & Koster Færgegård
At Camping Mønbroen you have ample opportunity to try your hand at sea kayaking or to enjoy a peaceful, quiet holiday in Møn's countryside. The campsite has 120 units for caravans or tents, many of which have a lovely view across Stege Bay, Storstrømmen Strait or Ulvsund. The site offers a kiosk where you can buy groceries and where, on weekends and in high season, you can order bread for the mornings. In addition to the kiosk, you'll find a reception area, kitchen facilities, shower/toilet facilities and laundry facilities in the same building. The campsite also has wireless internet.
Camping Mønbroen is located right next to the water, and therefore opens up to some of the most beautiful kayak routes on Møn and South Zealand, with challenges for experienced rowers and lovely shallow waters for the less experienced rowers. You can bring your own kayak or rent one at the campsite.
There is plenty of room and activities for children; they can fish from the shore, go swimming from the various jetties or play in the campsite's own playground.
For further information about the campsite and our many attractions, please visit our website.
Your sustainable camping stay in the Mon UNESCO biosphere reserve
If you like to stay in a tent or caravan, Camping Mønbroen at Koster Færgegård is a good offer. The campsite on the organic farm brings you closer to nature and sea, making it easy for you to go on vacation with a clear conscience.
At Koster Færgegård we practice organic farming on 200 hectares. You can see our Angus cattle graze along the coast, where they contribute to active nature conservation. Here, on the coast we have seasonal large quantities of washed up seaweed, which is an important and sustainable natural resource, for example, as an insulating material in sustainable building construction. We have created several water holes on our land. Endangered species such as the green toad thrive here. We transform our green spaces at the campsite into bee-friendly flower beds, so that you can enjoy the rich nature during your stay.
In our farm shop we offer our own organic meat products and from 2020 our own flour in different varieties. The flour is ground cold in our own mill.
At the campsite we use a heat pump and the entire outdoor lighting is adapted to Dark Sky Mon. This means that we do not disturb the night sky with lighting, offering you good opportunities for unique sky observations. You can enjoy Dark Sky Mon at the campsite and along the coast. At reception you can get good tips for your own personal dark sky observations.
Koster Færgegård is a Møn UNESCO Biosphere partner.