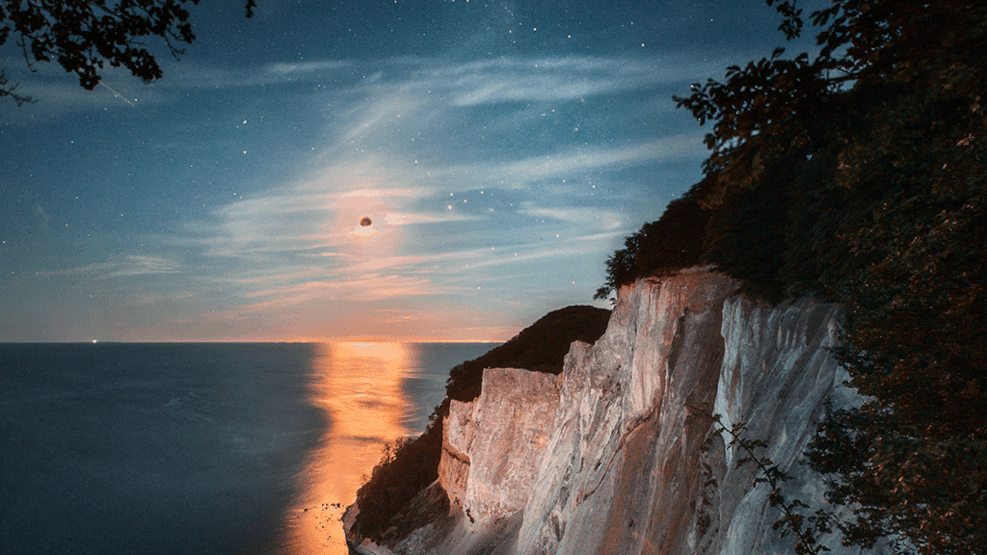 Camønogaarden
Camønogaarden - B&B, course center and refuge, - a place of tranquility, immersion and play
At Camønogaardens Bed & Breakfast, a course center and a refuge, only two kilometers from Møns Klint, you live on an old farm, built in 1870. The farm and its surroundings emanate a relaxed atmosphere in Dark Sky on East Møn.
Camønogaarden has six individually decorated rooms - all simply furnished and kept in light colors, some with mocha-colored soft earthen floors. We offer a framework that supports sustainable, ecology, darkness here in DARK SKY, wild nature, wellness and tranquility. As a guest or course participant you have access to the 16,000m2 plot with a lake, a plateau in a tree overlooking the sunset over the fields, playground, courtyard with outdoor kitchen, open fire for cooking, pizza oven, common dining and living room with ovens.
It is possible to rent bicycles or pack the backpack and go on a hike to Møns Klint.
Breakfast includes freshly baked organic rye bread, long-term buns and jams and fruit juices from the garden. You can buy organic ready-made dishes and meals can be arranged. It is possible to use kettles for coffee and tea in the living rooms.
Camønogaardens Bed & Breakfast, course center and refuge is for those looking for a place of tranquility, immersion and play in beautiful surroundings with the opportunity to enjoy nature - hiking, cycling, riding, or walking, a presence course with nature as day or evening inspiration from Camønogaarden.
Read more at https://stillevandringer.dk
Peaceful life in the heart of the Møn Biosphere Reserve
Camønogården is located on the eastern part of Møn, right at the entrance to the core area of the Møn biosphere reserve.
We are transforming the conventional agricultural farmland into a refuge for hikers and visitors who want to immerse themselves in nature and wellbeing.
Here you can spend the night in peace, waking up with freshly baked organic rye bread, rolls and with apple juice from our own garden.
We experiment with sustainable materials - clay soils, seagrass in the garden and cozy, sheltered resting places made from natural materials.
Camønogården is a Møn UNESCO Biosphere partner.
Opening hours 2020
from Easter to autumn holidays - April 01, 2020 to October 31, 2020
Book your stay on the website: https://camoenogaarden.dk and follow us on Facebook: https://www.facebook.com/camoenogaarden/