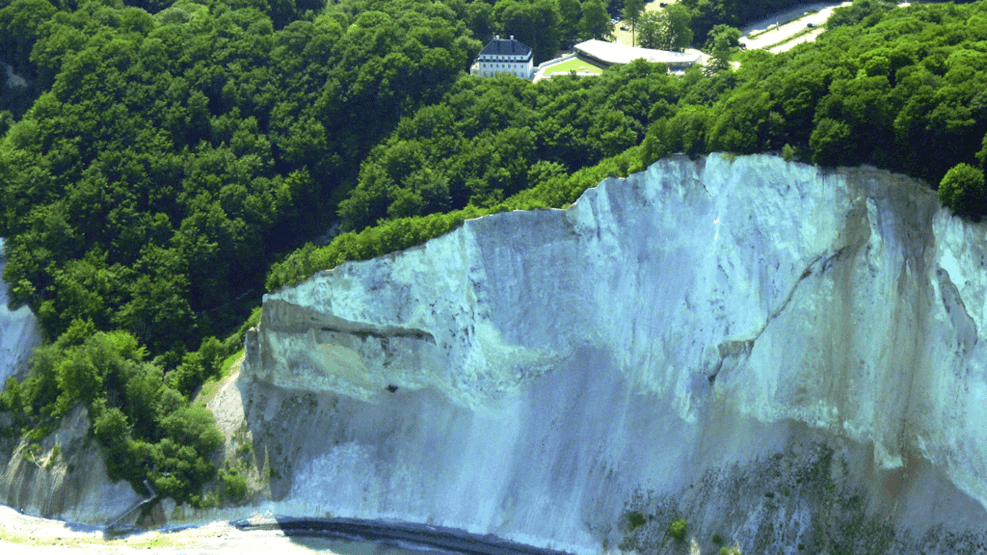 Café Møns Klint
Café Møns Klint welcomes you to the edge of the cliff for morning coffee, for lunch and to enjoy an ice cream or coffee and cake, a cold draft beer or an organic juice.
The café's menu is designed to embrace everyone who wants to experience Møns Klint: The family by car. The friends on a hike. The group on a bike ride. And you, who just want to experience some of Denmark's most unique nature.
You can choose today's salad, hot smoked salmon or homemade meatballs. And depending on the season, the café also offers dishes that you can enjoy inside or outside on the nice wooden terrace, where the eye is caught by the beautiful old trees on the cliff.
Homemade ice cream
On the terrace, by the flags and the ice hatch, you will also find KLINTE IS - the homemade ice cream from Café Møns Klint.
Coffee - with a croissant, 'to go' or in a pot for the well-deserved break
Many often start the morning with one of the café's various coffees and fresh baked goods.
And after experiences in nature or at the GeoCenter Møns Klint, it's nice to lounge in the café or out in one of the lounge chairs on the terrace, where the popular cinnamon "snails" and cakes - such as the apple pie - give the break extra quality.
WELCOME - check the seasonal menu and opening hours
You are welcome in Café Møns Klint, even without a ticket to GeoCenter Møns Klint. We follow the GeoCentre's seasons and opening hours.
See the seasonal menu here (fall to spring).
See opening times here.
If you want to book lunch or a coffee/cake table for a group, please contact us.