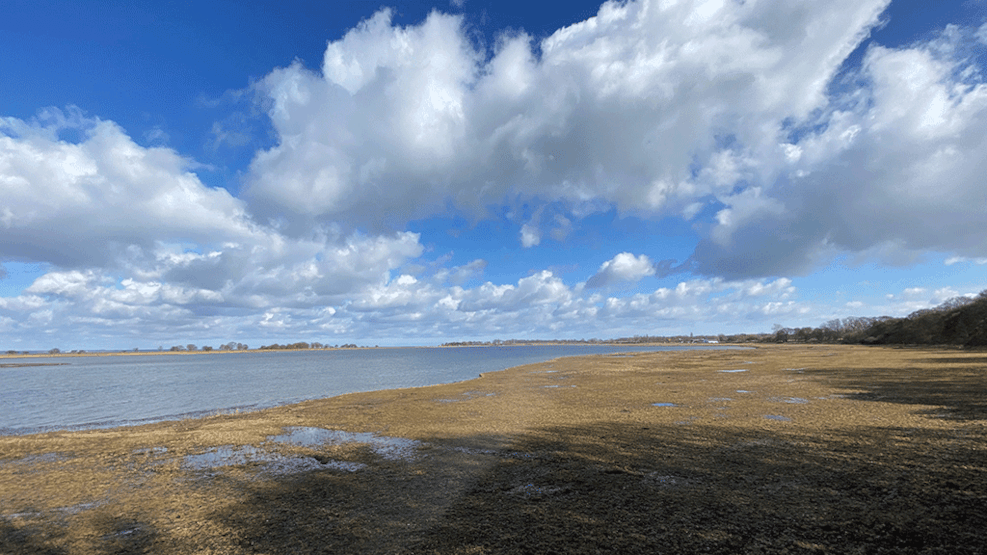 Bøndernes Egehoved
Bøndernes Egehoved is a stunning open forest filled with iconic broad-crowned oaks. A natural gem, it has pastures, marshes and beach meadows. As you step through the gate, you may encounter the peaceful cattle grazing amongst the trees. The local farmers from Ambæk once had grazing rights here, and the long and continuous presence of plant-eating animals has created an open forest with pastures and scattered trees and shrubs.
An old-growth deciduous forest including field maple dots the coastal slope.
The old European crab apple tree also grows here. A wild apple tree, it is the home of the rare orchard toothcrust fungus, whose only habitat in Denmark is here. There are giant oak trees and several large and crooked hornbeams. Large salamanders and tree frogs populate the small ponds. The European tree frog is a small green frog with sticky pads on its webbed toes. In the summer, it is often found climbing around in the shrubland.

Just beneath the coastal slope lies the beach meadow, offering an impressive view of Præstø Fjord over to Maderne. Cattle roam freely through the shallow waters between Maderne and Bøndernes Egehoved.  The coastal meadow is home to strawberry clover, narrowleaf trefoil, sea plantain, sea aster and seaside arrowgrass.
There is a wide variety of birds here including the white-tailed eagle and peregrine falcon, flocks of geese, and the common merganser.  If you continue along the coast to the west, you will come to the somewhat smaller Slotshave forest. Here, right next to the coast, is an absolutely amazing shelter space.
Bøndernes Egehoved is a privately owned forest. 
The forest is open to visitors from 06.00 to sunset.
Parking at Roneklintvej 5