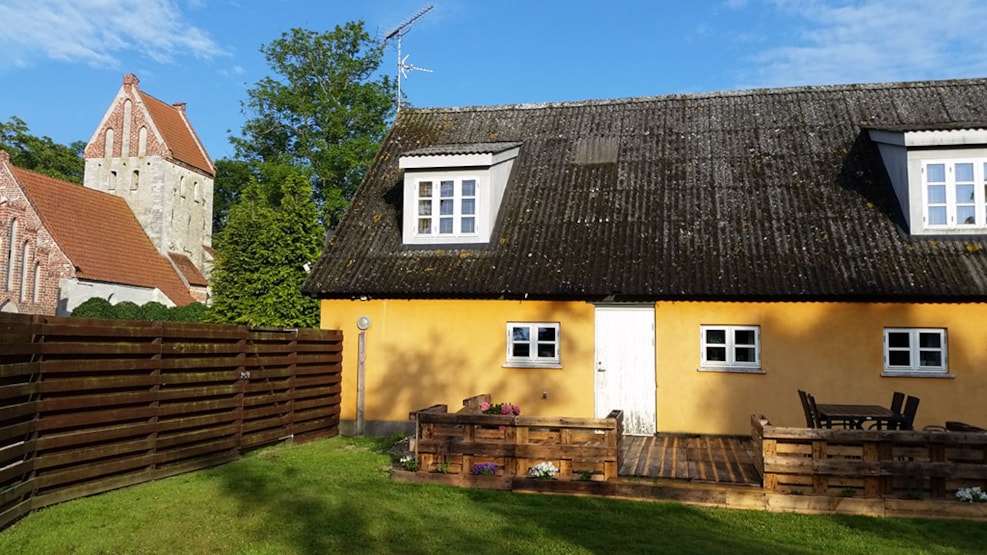 Akaciegaarden Bed & Breakfast
Akaciegaarden Bed & Breakfast is centrally located in the homey village of Varpelev with the church as a neighbour. The first thing that meets you as you step in through the gate to the old red, lime-washed farm is the courtyard with several cosy corners and the big acacia tree. Here the host will welcome you with warmth and presence, and you immediately sense the lovely atmosphere of the past. 
The rooms at the Akaciegaarden are in one wing, which has been completely renovated, but with respect for the history of the place. Here is a family section with three rooms, on two floors, and a family room that accommodates four people. On the ground floor there are two single rooms. It is all extremely stylishly decorated in light, subdued colours and very inviting. 
There is a large common room for dining and relaxation and two shared bath / toilet rooms in addition to fine kitchens with all necessary facilities. It is possible to order breakfast on Saturday and Sunday. 
Outdoors you can relax and let the kids play in the large, secluded natural area or in the garden, where there is also a large terrace. Enjoy the view of fields, horses and the open land and listen to the bird song in the tranquillity of this idyllic, truly rural oasis.