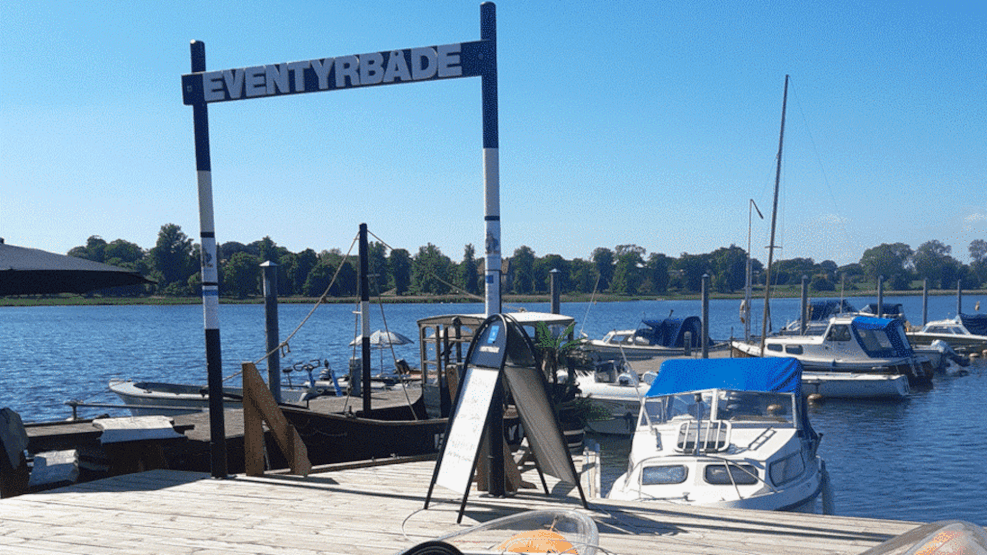 Adventure Boats
Welcome to Adventure Boats!
Meet dangerous pirates with loaded cannons and sharp-edged swords on a real pirate ship at the harbor or sail around Præstø Fjord. Head out on your own and experience the beautiful inlet. Here it is possible to spot seals or porpoises – so-called Danish whales. Everything can be experienced on the surface, but if you also want to discover what is hidden beneath a glass-bottomed canoe is recommended.
H.C. Andersen – Denmark's world famous fairy tale narrator and author – left his footprints in the beautiful town of Præstø many years ago. Together with my love of boats, this inspired me to set up Adventure Boats, which is the focal point of the company.
Adventure boats offers: 
Picnic boat
Enjoy your packed lunch with your family or friends while you enjoy a beautiful and relaxing trip around Præstø Fjord. You can also choose to order a picnic basket packed and ready for departure at Cafe Mocca, which is next door to Adventure Boats. The boat is equipped with a Bimimi Top, which shields you from direct sunlight.
Surf Bikes
Here you do not cycle on land, but on water. Try something completely different that almost no one else has experienced before. It's challenging, fun, and full of excitement to the end. An extra person can sit on the surfboard itself at no extra charge. Price is for a 2-hour trip including a brief introduction on land before the trip and loan of life jacket(s). See more on the website. 
Glass-bottomed canoe
When choosing a trip with a glass-bottomed canoe, you get a completely unique experience on Præstø Fjord and your very own water safari. In addition to fish and the secrets hidden on the bottom of the sea, you also have the opportunity to spot seals and porpoises. Our transparent canoes are produced from polycarbonate, which is part of the manufacture of bulletproof glass.
Sunrise and sunset trips
On Saturdays and Sundays, it is possible to experience the popular sunrise and sunset trips that are arranged with skilled instructors in the glass-bottomed Canoes. Contact Adventure Boats for schedule and booking.
Wow! Just for the kids!
A special sailing route in a glass-bottomed canoe for children: Find the pirate flags and solve the questions from famous adventures ad fairytales. Finish off with a shared polaroid photo in a nice frame from the pirate ship with the whole family.
Events for companies and institutions
Adventure Boats offer an escort boat, Shetland, on excursions. Get your provisions and other belongings transported easily during your trip; if participants need to rest, it is possible to get on board the Shetland. Glass-bottomed canoes can be sent off in groups of up to 16 people at a time on a summer excursion. Call or write for more information or a total offer.